Press release BoxID: 752137 (ibidi GmbH)
ibidi GmbH
Lochhamer Schlag 11
82166 Gräfelfing bei München,
de
http://www.ibidi.de
Contact person
Susanne Seifert
+49 (89) 5204617-34

ibidi Product News: ibidi µ-Slide 8 Well Grid-500: Track down your cells in a µ-Slide 8 Well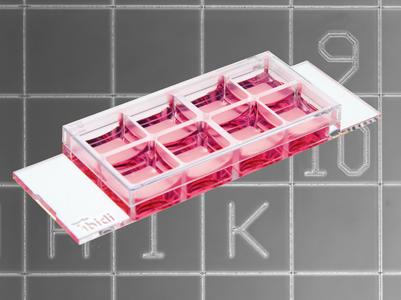 (PresseBox) (
Martinsried bei München

,
)
ibidi now offers the µ-Slide 8 Well Grid-500, a chambered coverslip with a 500 µm relocation grid. With this product, ibidi has combined two of its outstanding technologies: the µ-Slide 8 Well—ibidi's most popular open µ-Slide with 8 independent wells for cell culture and high resolution microscopy, and the Grid-500—a laser-imprinted grid with a 500 µm repeat distance. This combination makes the new µ-Slide ideal for relocating and counting cells or cell clusters. The sample is observed through the polymer coverslip bottom. Small numbers of cells and low volumes of reagent allow for cost-effective experiments in each individual well.
Für die oben stehenden Pressemitteilungen, das angezeigte Event bzw. das Stellenangebot sowie für das angezeigte Bild- und Tonmaterial ist allein der jeweils angegebene Herausgeber (siehe Firmeninfo bei Klick auf Bild/Meldungstitel oder Firmeninfo rechte Spalte) verantwortlich. Dieser ist in der Regel auch Urheber der Pressetexte sowie der angehängten Bild-, Ton- und Informationsmaterialien.
Die Nutzung von hier veröffentlichten Informationen zur Eigeninformation und redaktionellen Weiterverarbeitung ist in der Regel kostenfrei. Bitte klären Sie vor einer Weiterverwendung urheberrechtliche Fragen mit dem angegebenen Herausgeber. Bei Veröffentlichung senden Sie bitte ein Belegexemplar an
service@pressebox.de
.