Telefónica Selects Myriad Group To Provide Mobile Social Networking Services Across Latin America
MADRID, Spain

, (PresseBox) -
.
- 5year strategic partnership to deliver innovative social networking solutions, serving more than 80 million customers in 12 countries
- Services to be marketed under Telefónica Movistar brand, providing mobile access to popular social networks

Telefónica, one of the world's largest telecommunications operators, and Myriad Group, a global leader in mobile technology with software in over 2 billion phones, announced today that Myriad has been selected to provide social networking aggregation services to Telefónica's mobile subscribers across 12 countries in Latin America.

Marketed under Telefónica's Movistar brand, Myriad services will enable mobile users to simultaneously access multiple social networks, via mobile browsers, downloadable apps and other mobile technologies. The aim of the partnership is to deliver a richer social networking experience for Movistar customers, over a broad range of devices including Movistarbranded phones.

"Latin American consumers are enthusiastic users of social networks. This agreement will bring them a compelling and affordable way to access these sites from their mobile phones," said Luis Miguel Gilperez Lopez, Managing Director, Mobile Division of Telefónica Latin América. "One of the most appealing aspects of Myriad is its focus on massmarket phones rather than just highend devices, which will enable Telefónica to reach the widest possible audience and make the most of this exciting opportunity."

According to Internet measurement specialists comScore, Inc., 2 out of 3 global Web users visited a social networking site in December 2009. In Latin America the adoption rate exceeds 80%.

Telefónica currently serves more than 80 million mobile users in 12 Latin America countries, including Argentina, Colombia, Chile, Ecuador, El Salvador, Guatemala, Mexico, Nicaragua, Panama, Peru, Uruguay and Venezuela.

The Telefónica deployment is further testament to Myriad's successful acquisition of social media pioneer Xumii, Inc., and it follows recent commercial success with Australian mobile network operator, Optus, which involved Myriad delivering social networking services to over eight million customers.

"Coupled with our recent deal with Optus, our strategic partnership with Telefónica clearly positions Myriad as a leading provider of social networking solutions for mobile operators," said Simon Wilkinson, CEO of Myriad Group. "Our unique ability to deliver endtoend solutions, including deep integration of social networking into massmarket phones, enables operators to deliver nextgeneration services for all mobile users, even in markets where many users will never afford an advanced smart phone."

About Telefónica

Telefónica is one of the largest telecommunications companies in the world in terms of market capitalisation. Its activities are centered mainly on the fixed and mobile telephony businesses with broadband as the key tool for the development of both. The company has a significant presence in 25 countries and a customer base that amounts to 265 million accesses around the world. Telefonica has a strong presence in Spain, Europe and Latin America, where the company focuses an important part of its growth strategy. Telefónica is a 100% listed company, with more than 1.5 million direct shareholders.
Myriad Group AG
Myriad Group AG is a global leader in mobile technology and has shipped over 3.2 billion software applications in more than 2 billion mobile phones. Its comprehensive portfolio includes browsers, messaging, Java, social networking, user interfaces and middleware for all types of mobile phones, from ultralow cost handsets to advanced smartphones.

The company provides both individual components and complete solutions, which enable handset manufacturers and operators to deliver amazing experiences on mobile phones. Myriad also develops USSDbased customer selfcare platforms that deliver over 10 billion messages a year to 220 million mobile users across more than 30 mobile operators worldwide.

Myriad was created from the combination of industryleading companies, Esmertec and Purple Labs. It operates worldwide, with offices in Switzerland, France, UK, USA, Mexico, China, South Korea, Taiwan, Japan and Australia. Headquartered in Dübendorf-Zürich Switzerland, Myriad is listed on the SIX Swiss Exchange (SIX Symbol: MYRN). For more information, visit www.myriadgroup.com.


Press releases you might also be interested in
Weitere Informationen zum Thema "Netzwerke":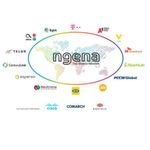 Telekommunikationsallianz ngena wächst
Die A1 Te­le­kom Au­s­tria Group, KPN und der in Russ­land und Ost­eu­ro­pa tä­ti­ge TK-An­bie­ter VE­ON sind der Al­lianz nge­na bei­ge­t­re­ten. Da­mit steigt de­ren Mit­g­lie­der­zahl auf 17. Die Deut­sche Te­le­kom sei da­durch in der La­ge, ihr glo­ba­les Netz­an­ge­bot für Un­ter­neh­men aus­zu­bau­en.
Weiterlesen