Press release BoxID: 850807 (SUZUKI Deutschland GMBH)
SUZUKI Deutschland GMBH
Suzuki-Allee 7
64625 Bensheim,
de
http://auto.suzuki.de
Contact person

+49 (6251) 5700-200

Suzuki World MXGP Heads to Latvia Buoyed by Recent Results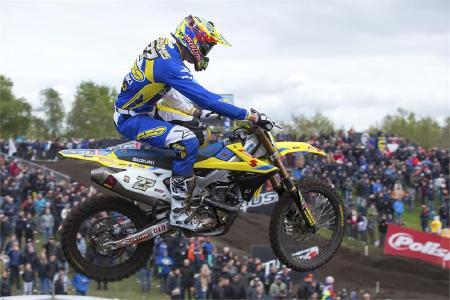 (PresseBox) (
Bensheim

,
)
After the back to back rounds in Italy and the Netherlands, the 2017 MXGP series took a weekend off before heading to the Baltic nation of Latvia for this seventh round of the Motocross World Championship, held at the Kegums facility just south of Riga. This weekend, the Suzuki World team of Arminas Jasikonis, Jeremy Seewer, Hunter Lawrence, Bas Vaessen and Zach Pichon is almost at full capacity and looking forward to the challenge, with only Kevin Strijbos absent due to his recently sustained elbow injury. The whole squad have been working hard in the break to try and keep their level up with some riders choosing to ride at the German ADAC national race, whilst others stayed away in order to rest or work on other aspects of their riding. "I didn't race this last weekend, because General Manager Stefan Everts didn't want to change our programme", said Jasikonis, "so I took the weekend off, but otherwise we did some good training. So far physically I feel good and I'm still really happy with how my Valkenswaard race went on my RM-Z450WS. This week is almost my home race, it's really close to Lithuania, and even though the sport is not so big there I'm hoping to see a lot of supporters. It'll be nice to go home for one day and I really enjoy the Kegums track, it has good soil, sandy which I like, so I think I can have another good weekend." Seewer also didn't race at the weekend, but he certainly wasn't resting on his laurels as the RM-Z250 rider seeks to gain back the red-plate in the MX2 class. "Since Valkenswaard we did quite a bit because it's been almost two weeks since that race. First of all we had some tyre testing with Pirelli which went well and is pretty positive for the future. Then we did some suspension testing for a couple of days, just to improve on some points and gain those extra few percentages to bring us to the next level. I then had one really good day training on a 450, working to get physically stronger and to make riding on a 250 seem easier. I didn't race on Sunday but this week we've practiced some more just to get ready for Latvia, which is a place I really like. I've done well there before and I hope I can do well there again this weekend." For Lawrence, he followed up his sixth overall at Valkenswaard with a second overall at the German ADAC, racing against some 450s on his RM-Z250. It was another positive step for the Australian who is starting to find his feet now and get his groove back after some early season set-backs. "I raced the ADAC in Jauer which was good training and it was nice to get some more good results. I'm looking forward to Latvia, it's quite a cool track, cool dirt and I'm excited to have a good weekend, building upon what I've done these past couple of weekends." After missing the last three MXGP events, Vaessen makes his return to the MX2 class after his collarbone injury. The race in Jauer was just a trial run, to get him ready for the MXGP this weekend and overall it was success. "The race went pretty well, I improved a lot over the weekend. I'm excited for Latvia and I hope to be as close to 100% health-wise as I can get. I don't really have expectations in terms of results, but I just want to ride well, ride consistent and if I do that, then I feel like I can score decent points and get this season going in the right direction."Kegums also hosts the third round of the EMX250 class where Pichon will once again being lining up under the Suzuki World MX2 awning. He will be hoping for a change of fortunes after the Valkenswaard race but should be buoyed by his performance in Germany where he came third overall. "The German ADAC went really well, I got good starts and the feeling was really good all weekend on my RM-Z250. I was really happy with my five-three results and just how I was riding. Kegums is a nice track, lots of jumps, good soil and surface and the whole area is a very nice place. I'm happy to go there for a second time, as I enjoyed my race last year where I went two-four for second overall in the EMX125 class."Unfortunately Strijbos won't be making the trip to Latvia as he is still recovering from the surgery to his elbow, which he had done after having to pull out of the Valkenswaard MXGP with too much pain. Thankfully there has been some positive news already and while there is still no expected comeback date, it is good that the injury seems to be healing up well. Strijbos had this to say about the chain of events: "The surgery all went well, my cast was already removed on Friday which is earlier than expected. Yesterday they just checked it but it all looked ok so now I can start to do some physio on it to make it stronger. We're just going to take it day by day though and see how it goes."After a good round at Valkenswaard, the riders of the Suzuki World team head to the sandy Kegums facility in Latvia, hoping to improve even more on at a track that holds good memories for most of them. 
Für die oben stehenden Pressemitteilungen, das angezeigte Event bzw. das Stellenangebot sowie für das angezeigte Bild- und Tonmaterial ist allein der jeweils angegebene Herausgeber (siehe Firmeninfo bei Klick auf Bild/Meldungstitel oder Firmeninfo rechte Spalte) verantwortlich. Dieser ist in der Regel auch Urheber der Pressetexte sowie der angehängten Bild-, Ton- und Informationsmaterialien.
Die Nutzung von hier veröffentlichten Informationen zur Eigeninformation und redaktionellen Weiterverarbeitung ist in der Regel kostenfrei. Bitte klären Sie vor einer Weiterverwendung urheberrechtliche Fragen mit dem angegebenen Herausgeber. Bei Veröffentlichung senden Sie bitte ein Belegexemplar an
service@pressebox.de
.