Press release BoxID: 848368 (SUZUKI Deutschland GMBH)
SUZUKI Deutschland GMBH
Suzuki-Allee 7
64625 Bensheim,
de
http://auto.suzuki.de
Seewer 'Helmet-Swap' With Thomas Luthi At Trentino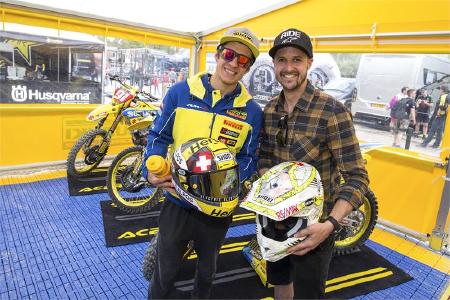 (PresseBox) (
Bensheim

,
)
Suzuki World MX2 rider Jeremy Seewer and the Suzuki World MXGP team invited fellow Swiss rider, Moto2 GP contender Thomas Lüthi, along to the weekend's GP of Trentino in Italy and both riders swapped helmets. Reigning World MX2 Championship runner-up Seewer and Moto2 Vice Champion Lüthi are good friends and often support each other at races when schedules permit. Luthi, who has nine GP victories to his name – and like Seewer is as main contender for the championship in 2017- also rides motocross bikes in his spare him, which is good practice and allows him to train more often because his time on the race bike is limited to official tests and race weekends. Seewer, who came up with the idea to swap helmets, said: "It is pretty fun; last year Thomas got Vice World Champion and I got Vice World Champion as well, so this year we both have the same goal to be World Champion." 
Für die oben stehenden Pressemitteilungen, das angezeigte Event bzw. das Stellenangebot sowie für das angezeigte Bild- und Tonmaterial ist allein der jeweils angegebene Herausgeber (siehe Firmeninfo bei Klick auf Bild/Meldungstitel oder Firmeninfo rechte Spalte) verantwortlich. Dieser ist in der Regel auch Urheber der Pressetexte sowie der angehängten Bild-, Ton- und Informationsmaterialien.
Die Nutzung von hier veröffentlichten Informationen zur Eigeninformation und redaktionellen Weiterverarbeitung ist in der Regel kostenfrei. Bitte klären Sie vor einer Weiterverwendung urheberrechtliche Fragen mit dem angegebenen Herausgeber. Bei Veröffentlichung senden Sie bitte ein Belegexemplar an
service@pressebox.de
.