6th CFK-Valley Stade Convention 2012: "Productivity and Economic Efficiency"
The 6th CFK-Valley Stade Convention will take place on the 12-13 of June 2012 in the Stadeum in Stade.

Stade

, (PresseBox) -
The topic of "Productivity and Economic Efficiency" will be the focus of lectures held by representatives from renowned companies and institutes. In addition, approximately 40 exhibitors will present their products and achievements in the target field of "CFRP".

Call for Papers:
All those who are interested in contributing to the program are warmly
welcome to submit their proposals/abstracts for the conference via the
Call for Papers by 17 January 2012.

Exhibition:
From now on you have the possibilty to reserve your exhibition booth for the
6th CFK-Valley Stade Convention. Please find the general exhibitor information,
the floorplan and already booked exhibition boothes atwww.cfk-convention.com

Participation "Early Bird":

For your binding registration to the CFK-Valley Stade Convention 2012
please use the "Registration form". Till 31 December 2011you have the
chance to get an "Early Bird"-Reduction on the fees.

Furher information as well as the needed forms are available at
www.cfk-convention.com
CFK-Valley Stade Convention GbR
c/o
innos - Sperlich GmbH – Wegbereiter für Innovationen
Die innos - Sperlich GmbH ist seit 1992 auf das Zielfeld "Neue Technologien und Neue Märkte" spezialisiert und anerkannter Managementpartner von Wirtschaft, Großforschung und Politik. Die Grundlage hierfür ist unsere langjährige Management- und Projekterfahrung mit unterschiedlichen Fragestellungen im Rahmen technologieorientierter Entwicklungsvorhaben. Der Fokus liegt dabei auf Innovationsprojekten mit Pilotcharakter, neuen Geschäftsfeldentwicklungen z. B. in der Industrie oder Clusterbildung im Rahmen von Wirtschaftsförderungsprogrammen.
Zum Angebotsprofil des Unternehmens zählen die Leistungsbereiche: Strategieplanung / Innovationsmanagement, Netzwerk- und Clustermanagement, Technologiemarketing, Fachkongresse und Messen, Technologiemanagement, Fördermittelmanagement, Patentmanagement, Controlling, Rechts- und Vertragswesen.

Kontakt:
Marco Küster
Tel. +49 551 49601-22
kuester@innos-sperlich.de
www.innos-sperlich.de
Press releases you might also be interested in
Weitere Informationen zum Thema "Luft- / Raumfahrt":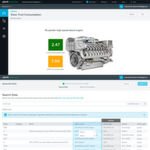 Splunk wertet industrielle IoT-Daten aus
Mit Sp­lunk In­du­s­trial As­set In­tel­li­gen­ce (IAI) stellt der Spe­zia­list für Ma­schi­nen­da­ten sei­ne ers­te Lö­sung für das In­ter­net der Din­ge (IoT) vor. Sie er­mög­licht die Aus­wer­tung in­du­s­tri­el­ler IoT-Da­ten.
Weiterlesen