High-speed Internet with OPAL
The first community along OPAL, Neukünkendorf, is connected to the European high-performance telecommunications network
Berlin/Neukünkendorf

, (PresseBox) -
Around five million people in Germany, especially in rural regions, still do not have access to high-speed Internet. With the construction of OPAL (Ostsee-Pipeline-Anbindungs-Leitung - Baltic Sea Pipeline Link) the WINGAS Group is making a contribution to the German government's "broadband program", which aims to connect three quarters of all German households with high-speed Internet access by 2014. Together with over 470 kilometers of natural gas pipeline, in the last few months new fiber optic cables have been laid through Mecklenburg- Western Pomerania, Brandenburg and Saxony which can now be used for telecommunications and DSL. One of the first communities to benefit from the new service is the Neukünkendorf area in the town Angermünde in the north of Brandenburg. "We expect other communities will follow," Dr. Ludwig Möhring, the WINGAS Managing Director responsible for sales, explained in Berlin. Together with Dr. Carsten Enneper from the Brandenburg Ministry of Economics, Wernfried Honig, the elected representative of Neukünkendorf, and Oliver Pfeiffer, Member of the Management Board of the service provider mr. net group, the WINGAS Managing Director officially launched the fiber optic cable system along the OPAL natural gas pipeline for data operations.

The WINGAS fiber optic cable network runs parallel to the gas pipeline sover 2,500 kilometers right through Germany. "The fiber optic cables are used primarily for controlling the natural gas pipeline system," Möhring said. "However, any free capacity can also be used for other communications purposes." Internet service providers, IT service providers, cable TV providers and mobile communications companies use the WINGAS system for high-speed data transmission. Together with the German networks of two European partner companies, the fiber optic cable network marketed by WINGAS in Germany extends over more than 10,000 kilometers, thus forming a backbone for the German IT and telecommunication industry. The network directly connects important locations in Germany's key economic regions.

At the launch of the fiber optic cable system along the OPAL pipeline, Dr. Carsten Enneper underlined the importance of fast and high-performance telecommunications channels for Germany's economy. "Without highspeed DSL connections, companies are virtually cut off from business life, especially in rural regions. This disadvantage has to be overcome and the gaps in the network coverage closed. For this reason, Brandenburg will also initiate its own network expansion program. The construction of OPAL and the installation of new communications lines is therefore a welcome source of support for us in setting up the required infrastructure." While the fiber optic cable network is the same as the WINGAS data highways, the connections are set up by service providers. In Neukünkendorf this task is being completed by the telecommunications company mr. net group from Flensburg: "We are very pleased with the demand for our services so far. We anticipate that we will be able to attract more than half of the households in the very near future," Oliver Pfeiffer, Member of the Management Board said. "The laying of the OPAL pipeline is a unique opportunity."

Compared to data transmission via copper cables or radio, fiber optic cables, which are made of fine silica glass, have very high band widths - despite a fiber diameter of less than 0.13 millimeters. Today fiber optic cables can transmit data volumes of up to 10 Terabits per second. This means that more than ten million telephone calls can be made at the same time via one single pair of fibers no thicker than a hair or that the data volume of a daily newspaper issued every day for 300 years can be sent within a second.
WINGAS GmbH & Co. KG
WINGAS is one of the largest suppliers of natural gas in Germany. The energy company is active in natural gas trading across Europe - in Belgium, Denmark, France, Great Britain, Austria, the Netherlands, and the Czech Republic. Its customers include municipal utilities, regional gas suppliers, industrial firms and power stations. WINGAS companies also market transport and storage capacities, as well as fiber-optic capacities for telecommunications. Since 1990 the WINGAS Group has invested about 4 billion euros in developing the energy infrastructure. Its storage facilities make the WINGAS Group one of the largest storage facility operators in Europe. This includes the natural gas storage facility in Rehden in North Germany, which is the largest natural gas storage facility in Western Europe. The approximately 2,700-kilometer-long pipeline network of the subsidiaries WINGAS TRANSPORT GmbH and OPAL NEL TRANSPORT GmbH connects the major gas reserves in Siberia and the North Sea to the growing markets in Western Europe.

www.wingas.de
Press releases you might also be interested in
Weitere Informationen zum Thema "Energie- / Umwelttechnik":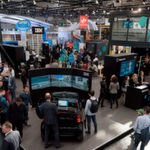 22 IIoT-Plattformen, die Sie kennen sollten
Platt­formö­ko­no­mie ist ein zen­tra­les The­ma der Han­no­ver Mes­se 2018 – ge­nau­er der Di­gi­tal Facto­ry. Von AXOOM und Ama­zon Web Ser­vices über Mi­cro­soft und Goog­le bis Sie­mens: Fast al­le Big Play­er in Sa­chen IIoT-Platt­for­men sind am Start. 20 in­ter­es­san­te Lö­sun­gen ha­ben wir für Sie zu­sam­men­ge­s­tellt.
Weiterlesen