Further development of corporate strategy - redistribution of Executive Board responsibilities
Leipzig

, (PresseBox) -
In connection with the further development of corporate strategy, the Supervisory Board of Verbundnetz Gas Aktiengesellschaft has approved the redistribution of responsibilities among the Executive Board members. This also entails a restructuring of the four Executive Board functions and personnel changes on the Executive Board.

The three infrastructure functions network, storage, and exploration & production will be grouped together under the function of "Infrastructure/Technical Affairs". In its meeting on September 19, 2013, the VNG Supervisory Board decided to appoint Mr. Hans-Joachim Polk as a member of the Executive Board with responsibility for this function from the earliest possible date but no later than September 1, 2014. Mr. Uwe Barthel, currently board member responsible for "Infrastructure/Technical affairs", is stepping down from the Executive Board of VNG at his own request.

Apart from infrastructure, the trading business is also to be pooled in a board function, which is to be headed by Prof. Dr. Klaus-Dieter Barbknecht. Responsibilities for gas procurement are to be added to the "Gas Sales/Human Resources" board function, which is to be renamed "Sales & Trading". Previously, Mr. Michael Ludwig was responsible for the "Gas Procurement" function. Mr. Ludwig is stepping down from the Executive Board of VNG by mutual agreement with effect from September 30, 2013.

In connection with the reassignment of responsibilities, a new "Finance and Human Resources" Executive Board function is to be established. For this area of responsibilities, the Supervisory Board of VNG, at its meeting on September 19, 2013, appointed Mr. Bodo Rodestock as a member of the Executive Board of VNG with effect from October 1, 2013. Mr. Rodestock is to assume the commercial responsibilities previously held by Dr. Karsten Heuchert, Chairman of the Executive Board of VNG, and the responsibilities for human resources previously held by Prof. Dr. Barbknecht. Until Mr. Polk joins the company, Mr. Rodestock will also head the "Exploration and Production" function on an acting basis.

Curriculum Vitae of Hans-Joachim Polk

Hans-Joachim Polk was born in Essen in 1966. After obtaining a master's degree in petroleum and natural gas engineering at the University of Clausthal-Zellerfeld, Hans-Joachim Polk has worked for RWE Dea AG for many years, holding a number of national and international positions in the field of exploration and production. The main focus of his activities was on natural gas storage, field development projects and oil and gas production. After being Managing Director of RWE Dea Norge AS for two years, Mr. Polk was recently appointed Managing Director of RWE Dea UK Holdings Limited.

Curriculum vitae of Bodo Rodestock

Bodo Rodestock was born in Frauenstein/Erzgebirge in 1968. Following training as a banker and a degree in business management, Mr. Herr Rodestock spent many years as a corporate customer adviser with Commerzbank AG. He joined VNG in 2000. Initially he was Head of Finance and then Head of Finance and Accounting. In 2011, he was appointed Head of Commercial Management. In this position he was responsible for all commercial matters concerning VNG. He was already granted prokura (official authority to act on behalf of the company) in 2001. Mr. Rodestock is also a member of the supervisory boards of several VNG companies in Germany and other countries.
VNG - Verbundnetz Gas Aktiengesellschaft
VNG - Verbundnetz Gas Aktiengesellschaft (VNG) with headquarters in Leipzig ensures reliable, flexible supplies of natural gas to customers in Germany and other countries from its own production, long-term import contracts and European spot markets. VNG offers its customers tailor-made, innovative gas products and services. These activities are combined with projects and cooperation arrangements for research and development work and the positioning of advanced natural gas technologies on the power and heat market as well as in the mobility sector. VNG AG is a company within the VNG Group that is active throughout the value chain of the German and European natural gas industry and focuses on the four key business areas of exploration & production, trading & services, transport, and storage.

Along the value chain, VNG takes advantage of growth opportunities with a view to safeguarding and expanding the market success of the Group. Further information is available at www.vng.de
Press releases you might also be interested in
Weitere Informationen zum Thema "Energie- / Umwelttechnik":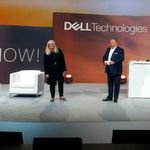 Digitalisierung erfordert nahtlose Kommunikation
Dells Ta­ges­ver­an­stal­tung The Next Now! In Mün­chen woll­te Hil­fe­stel­lung leis­ten auf dem Weg zur Di­gi­ta­li­sie­rung der Un­ter­neh­men in Deut­sch­land. Wel­che St­ra­te­gi­en und Rah­men­be­din­gun­gen er­wei­sen sich als güns­tig, was soll ver­mie­den wer­den?
Weiterlesen