As the one-terabyte Swiss Army Knife arrives, Varonis Systems says - defend your data
London

, (PresseBox) -
Commenting on the launch of the Victorinox one-terabyte Swiss Army Knife - unveiled on Monday at the Consumer Electronics Show in Las Vegas - Varonis Systems says that, with these levels of data storage hidden in a humble pocket knife, organisations need to take extra care when defending their corporate data.

For example, says David Gibson, the data governance specialist's technical director, if staff can walk out of a building with such dizzying volumes of data in their pockets, physical security staff would have to be extraordinarily lucky to discover a member of staff to detect a rogue employee looking to steal what - for many corporates - would represent an image of their entire sales and customer database.

"And with this fast USB drive-equipped Swiss Army Knife being capable of 150 MB/s data write speeds, you really getting are into 'Mission Impossible' territory when it comes to defending your data against such electronic heisting," he said.

"The problem facing many organisations, however, is the prospect of stale, excessive permissions, and the absence of an audit trail-- who is doing what with their data - and when - and complying with regulations that mandate that access controls are properly maintained, and use of data is monitored," he added.

The Varonis technical director went on to say that one of the problems with managing and protecting data on corporate IT systems is that around two-thirds of the information is typically stored in an unstructured and archival format.

Put simply, he explained, this unstructured data is notoriously difficult to track, owing to the volume of data, the enormous number of files, the complexity of the hierarchies and the permissions structure, and the amount of access events that are generated each day.

Gibson says that the problem facing IT security managers is that permissions analysis and auditing now require sophisticated automation. Manual authorization processes are simply too inefficient to keep up with the pace of change, and native audit functionality included with the unstructured platforms is resource intensive, difficult to store, and difficult to analyse.

"USB drives are incredibly useful, and many companies are hesitant to lock them down altogether. But with the prospect of someone being able to transfer the many gigabytes of files onto a device they carry around in their pocket or purse - and which bears absolutely no resemblance to a portable hard drive - the chances of a rogue member of staff being detected with this data are close to zero without using automation to audit and analyse access activity," he said.

"Against this backdrop, the arrival of the one-terabyte Swiss Army Knife high-speed USB drive really needs to act as a wake-up call to anyone who stores large volumes of data on their IT systems, and does not have a comprehensive audit trail of activity on all their data," he added.

For more information on Varonis Systems: http://www.varonis.com

For more information on the one-terabyte Swiss Army Knife: http://bit.ly/zfP0pK
Varonis Deutschland
Varonis is the leader in unstructured and semi-structured data governance for file systems, SharePoint and NAS devices, and Exchange servers. The company was named "Cool Vendor" in Risk Management and Compliance by Gartner, and voted one of the "Fast 50 Reader Favorites" on FastCompany.com. Varonis has over 4500 installations worldwide. Based on patented technology and a highly accurate analytics engine, Varonis' solutions give organizations total visibility and control over their data, ensuring that only the right users have access to the right data at all times. Varonis is headquartered in New York, with regional offices in Europe, Asia and Latin America..




Press releases you might also be interested in
Weitere Informationen zum Thema "Sicherheit":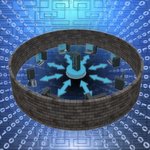 Keine Zukunft für geschlossene Netzwerke
Lan­ge dach­te man ein ge­sch­los­se­nes Sys­tem sei si­che­rer und bes­ser ge­schützt vor ex­ter­nen An­grif­fen. Doch mit der zu­neh­men­den Di­gi­ta­li­sie­rung und Ver­net­zung wird in Un­ter­neh­men der Ruf nach agi­len Netz­wer­ken und Mul­ti-Cloud im­mer lau­ter. Ein Um­den­ken fin­det statt und da­mit auch der Wil­le zum Wan­del.
Weiterlesen