Ultra-Low-Cost Computer Solution For Schools Bundles Free K-12 Education Software
Calgary

, (PresseBox) -
Canadian company Userful Corporation, the world leader in multiseat Linux computing, today announced the preview release of Userful Linux MultiSeat 2010(TM) - a complete Linux based classroom software solution on a single install DVD. Userful's flagship product, Userful Multiplier(TM) , turns 1 computer into 10, and is the foundation of this new product preview release. This evaluation software provides a sneak preview of some of the major feature enhancements that will be included in the commercial release of Userful Multiplier V.4.0 and Userful Linux MultiSeat 2010(TM) , in Q4 2010.

Userful increases access to affordable computing in educational scenarios such as classrooms, computer labs, and libraries by enabling multiple people to connect to a single host PC, each with their own monitor, keyboard, and mouse. Since Userful Linux MultiSeat 2010 is Linux based, the operating system (OS) and application software is all free! Hundreds of free, open source, enduser and educationspecific applications are included, such as: Edubuntu OS, iTALC classroom management tool, ATutor teacher assignment tracking software, OpenOffice.org office suite, GIMP graphics suite, GCompris educational games suite, Firefox web browser, and many more. Teachers can use free open source software to further lower costs, easily tailor curricula to individual students, and monitor and control the classroom computers. Students can develop digital skills that will help them with their school work and prepare them for jobs in the future.

With Userful, each user individually controls his or her own station and applications. To the users, it seems like they each have their own dedicated PC, but in reality they are all sharing the resources of a single computer. Userful supports 3D applications, and provides superior video performance to Windows alternatives such as Microsoft Windows Multipoint Server 2010 when using USB multiseat devices.

Userful supports all major USB multiseat devices, including the HP T100, Wyse E01, NComputing U170, MCT MWS 8820, and MWS 8840, as well as standard video cards. Setup is plug and play, and configuration is automated, making Userful easy to setup and use. Simply plug USB multiseat devices into the host PC, plug a monitor, keyboard, and mouse into each USB video device, install Userful software, and the system is ready to support multiple users at the same time. At just $59 per seat (education pricing), and with no server licensing costs, Userful software is also the lowest cost shared resource computing solution on the market.

"With Userful Multiplier we can fulfill our mission of bringing equality and equity in technology to our children and young students." Said Luis Alejandro Orona, Product Manager, Oro Verde Digital SRL Argentina. "It allows us to bridge the digital divide in an economic and ecological way. What I most appreciate is the simplicity of implementation and use. Previously it took much more time and effort to install large numbers of computers. Installing multiple stations on a single PC saves us time and maintenance costs."

Userful's software is sold through a partner network of resellers and OEMs worldwide. Having the support of a broad range of partners makes it easy for customers to purchase Userful solutions optimized for the unique language, content, and curriculum needs of their region. The upfront hardware cost savings, and ongoing electricity and maintenance cost savings provided by Userful shared resource computing solutions can multiply the number of computer stations available to schools, delivering more workstations within the same budget. Teachers can better align computing resources with instructional strategies, while deploying easy to manage computers right in the classroom, and reducing workstation support liabilities.

"With Userful, schools can offer more computer access to more students on existing budgets, and/or have enough money left over to spend on other classroom technology," said Beverley Gallagher, VP Strategic Partnerships at Userful. "Plus the Userful multiseat computers are easy to set up and maintain, making them easily managed by nontechnical professionals right in the classroom."

Userful Linux MultiSeat 2010 (preview) is available now for pilots and customer trials as an Edubuntu 10.04 integrated install DVD. The integrated install DVD allows users to partition the target computer's hard drive during the install process, and install Edubuntu 10.04 preconfigured with Userful Multiplier Evaluation Version 3.8, in a single convenient installation. Userful Multiplier Evaluation V.3.8 is available in both RPM and DEB formats, supporting all major Linux distributions including Ubuntu 10.04, SLED 11, and Debian 5.0.

To learn more and to download Userful Linux MultiSeat 2010 (preview), or Userful Multiplier Evaluation V.3.8, visit http://userful.com/products/userful-linux-multiseat, email info@userful.com, or phone +1.403.289.2177 ext.795.

For the full version of the press release please visit: http://userful.com/press/linux-multiseat-2010
Userful
Userful Corporation is the world's leading Linux Desktop Virtualization company with millions of users in over 100 countries. The company's software which turns 1 computer into 10 lowers desktop computing costs, improves manageability, and reduces both electricity consumption and ewaste. Userful's software is sold through a partner network of resellers and OEMs worldwide. Privately held and founded in 1999, Userful launched their flagship product in 2002, and has since sold over 750,000 seats. To learn more about Userful, visit: http://www.userful.com

Trademark notice:

Userful Linux MultiSeat 2010(TM) , and Userful Multiplier(TM) are trademarks of Userful Corporation. All other trademarks are the property of their respective owners.

Press releases you might also be interested in
Weitere Informationen zum Thema "Hardware":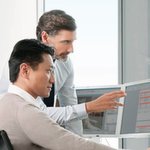 Trainingsprogramm für angehende Mainframe-Ingenieure
Auf den dro­hen­den IT-Fach­kräf­te­man­gel für rea­giert Fu­jit­su mit ei­nem um­fas­sen­den Bil­dung­s­an­ge­bot: Die För­de­rung der Aus- und Wei­ter­bil­dung von IT-Fach­kräf­ten und Nach­wuchs in den Be­rei­chen Main­fra­me- und Da­ta­cen­ter-Tech­nik.
Weiterlesen