Trusteer's Amit Klein Named CTO of the Year by InfoWorld Magazine
Mr. Klein Recognized for His Groundbreaking Security Discoveries, and Helping Vendors Fix Flaws in Applications and Browsers
New York

, (PresseBox) -
Trusteer, the world's leading provider of secure browsing services, today announced that its CTO Amit Klein was named one of the best CTOs for 2010 by InfoWorld Magazine. Each year, the InfoWorld CTO 25 Awards honor senior IT executives who have demonstrated leadership and innovation within their companies and throughout the wider IT community, translating the promise of technology into business benefit.

Mr. Klein was honored by InfoWorld for his groundbreaking discoveries of new attack techniques and for his leadership in improving the security of online banking and commerce. He is profiled at: http://www.infoworld.com/t/leadership/the-best-ctos-2010-618?page=0,4#klein

"Of course, not every company was in makeorbreak mode, and several CTO 25 winners demonstrated the value of innovation in technology and management in any economy," said Galen Gruman, Executive Editor/News and Features, InfoWorld. "Amit Klein and his research team at secure browsing service provider Trusteer have made several groundbreaking security discoveries in the past 18 months. ...He and his team also work with the financial services industry to track and help shut down criminal Websites used to commit online fraud and perpetuate identity theft." In this way, Galen added, "Mr. Klein's research has tremendously benefited the industry."

"Being named one of the top 25 CTOs of the year by InfoWorld is a great honor," said Amit Klein, CTO of Trusteer. "I am also very proud of our research team. Although crime syndicates constantly challenge us, we work 24/7 to identify new malware techniques and protect our customers, and their customers, from new attack methods. Browsers are the frontline of the battle for control over internet security, and we are doing everything we can to make the web more secure for businesses and their online customers."

Amit Klein leads Trusteer's internal research team. The group explores new malware attack techniques and is responsible for setting product goals. The group works closely with other security vendors, researchers, and customers to secure web applications from new browserbased threats. Mr. Klein's research group often uncovers new vulnerabilities and flaws in commonly used products, but these are not publicly disclosed until they are fixed. Publicly available research notes are posted on Trusteer's website at: http://www.trusteer.com/research/publications.

Prior to Trusteer, Mr. Klein was Chief Scientist of Cyota (acquired by RSA, now "RSA - The security division of EMC"), and previously was a director of security and research at Sanctum (acquired by Watchfire, now part of IBM Rational division). He has over 18 years of experience in information security and has written over 30 papers. Mr. Klein holds a B.Sc. (cum laude) in Mathematics and Physics from the Hebrew University in Jerusalem, Israel and is a graduate of the prestigious "Talpiot" IDF program.
Trusteer
Trusteer, the world's leading provider of secure browsing services, helps prevent financial malware attacks through its Rapport and Flashlight services. Trusteer Rapport enables banks and online businesses to protect sensitive data such as account holder credentials from malware by locking down the browser and creating a tunnel for safe communication between the web site and customers' machines. It also prevents phishing by validating site authenticity. Trusteer Flashlight allows remote, effective, and instant investigation of malwarerelated fraud incidents. Trusteer's solutions are used by more than 60 leading financial organizations in North America and Europe and by more than 6.5 million of their customers. Trusteer is a privately held corporation led by former executives from RSA Security, Imperva, and Juniper. For more information visit www.trusteer.com.


Press releases you might also be interested in
Weitere Informationen zum Thema "Sicherheit":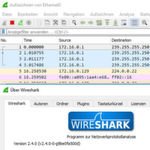 Erste Schritte mit Wireshark
Geht es um die Ana­ly­se von Netz­wer­ken, ge­hört die Open­sour­ce-Lö­sung Wi­res­hark zu den be­kann­tes­ten Lö­sun­gen da­für. Das Tool steht für Netz­wer­kana­ly­sen auch als por­ta­b­le Ver­si­on zur Ver­fü­gung.
Weiterlesen