TQM8360 - high-density integrated processor module for telecommunications and industrial applications
Weßling

, (PresseBox) -
The TQM8360 is the most versatile member of the Power-QUICC II Pro family from TQ Components and supports virtually all interfaces and protocols that are required today in typical applications, such as DSL and wireless infrastructure, IP-based PABX, routers, and multifunctional firewalls.

With its high integration density, the TQM8360 enables any applications to be implemented very quickly simply by adding the requisite interface components to a customer-specific base board. Transferring complexity, such as, e.g., DDR2 memory to the TQM8360 allows the design of the base board to be simplified significantly, thereby achieving a cost-optimized total solution.
Further savings are also possible utilizing options for adding components such as more memory.

In addition to the 1260 MIPS provided by the 32-bit CPU, the application software is also supported by two integrated communications coprocessors (QUICC Engine up to 500 MHz) and a security engine (AES, 3DES, RSA, SHA, MD5, HMAC, RNG). The result is that overall performance is significantly higher than with typical CPUs.
Measuring 77x75mm, the TQM8360 handles power and reset management for all components of the module, and thus requires only a single power supply (3.3 V). Using compact and robust GHz-capable mezzanine connectors, interfaces such as 8 Fast-Ethernet, two gigabit Ethernet, two Multi PHY UTOPIA/POS interfaces, or eight TDM buses can be implemented. In addition to these specialized versions, the standard interfaces SPI, UART and I2C are each also available in dual versions, as is a full-speed USB interface.
Peripherals are connected to the TQM8360 through the 32-bit PCI interface or the CPU s local bus.

One completely new feature for embedded PowerPC processors is support for a hardware-based IEEE1588 precision clock synchronization protocol. Ethernet packages can thus be provided, e.g., with timestamping having nanosecond-level accuracy. This protocol provides high-precision timing synchronization of multiple platforms, as used, e.g., in robot control systems or printer controls. This along with the optionally available extended -40°C to +85°C temperature range makes the TQM8360 very attractive specifically for outdoor and industrial applications.
In addition, the TQM8360 offers generous memory expansion capabilities: 64-bit DDR2 SDRAM from 128 MB up to 512 MB, 32-bit NOR Flash from 4 MB up to 128 MB, NAND Flash up to 4 GB, and an I2C data EEPROM up to 32 KB.

Also offered is a variant with two memory banks at 32 bit each. Both the CPU and QUICC Engine can access their "own separate" memories simultaneously. This enhances performance in high-communications-intensive applications.
Rounding out the generous list of features are an external-battery-backed real time clock, temperature sensor, and low power con-sumption at less than 10 W.

The TQM8360 plus the integration support provided by TQ-Components enable you to significantly reduce your development cycle, and thus your total project costs.
TQ-Group
The TQ Group - The entire world of electronics The TQ Group is composed of TQ Systems, TQ Mechanics and TQ Components. Founded in 1994, the system supplier TQ Systems develops and produces elec-tronic modules and systems according to customer specifications. In the corporate family, TQ Mechanics is responsible for mechanical production. TQ Components markets embedded systems and industrial PCs developed and produced by TQ systems. The TQ Group has over 600 employees. Overall sales attained 98 million in business year 2006/2007.

Range of performance of TQ-Components
One of the strengths of the company are the internally developed embedded TQ modules. TQ offers the entire line of controllers: In addition to 16-bit and 32-bit Infineon modules, the line includes a wide selection of Freescale, VIA and Intel-based processor boards and Xilinx FPGAs. The modules score a hit due to their minimal dimensions and long-term availability and meet high quality demands. Industrial compatibility and a longevity are a top priority at TQ.

Another important pillar of the company is industrial PCs. They set themselves apart through their sturdiness and long-term availability. The space-saving mini-industrial PCs stand out due to their high level of modularity. The customer can achieve his own individual solution without the need to acquire unnecessary product components.
Press releases you might also be interested in
Weitere Informationen zum Thema "Hardware":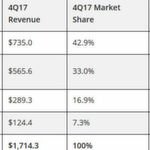 Umsatz konvergenter Systeme legt weltweit zu
Nach An­ga­ben der In­ter­na­tio­nal Da­ta Cor­po­ra­ti­on (IDC) ver­mel­de­te der "World­wi­de Quar­t­er­ly Con­ver­ged Sys­tems Tra­cker" für das vier­te Quar­tal 2017 ei­nen welt­wei­ten An­s­tieg der Um­sät­ze im Be­reich des kon­ver­gen­ten System­mark­tes um 9,1 Pro­zent. Hy­per­kon­ver­gen­te Sys­te­me out­per­for­men, an­de­re Teil­seg­men­te er­leb­ten Rück­gän­ge.
Weiterlesen