Analog Bits Accelerates Analog IP Verification Using Magma's FineSim SPICE
FineSim SPICE multi-CPU simulation technology used to significantly shorten simulation runtimes and increase simulation coverage without sacrificing accuracy
San Jose, Calif.

, (PresseBox) -
Magma Design Automation Inc. (Nasdaq: LAVA), a provider of chip design software, today announced that Analog Bits, Inc., the integrated clocking and interface IP leader, accelerates analog IP verification for its precision clocking macros, programmable interconnect solutions and specialized memories using FineSim(TM) SPICE multi-CPU circuit simulation technology.

Using the FineSim SPICE multi-CPU simulation technology, Analog Bits has significantly shortened simulation runtimes, increasing simulation coverage without sacrificing accuracy.

"We've found FineSim SPICE an excellent match for our advanced mixed-signal design environment," said Mahesh Tirupattur, executive vice president of Analog Bits. "We've achieved a 10X productivity boost over our traditional SPICE simulator with FineSim SPICE, allowing us to improve simulation coverage and to deliver higher quality analog IP faster."

"The market adoption of FineSim is growing rapidly, over 100 companies are now using it in their design flows," said Anirudh Devgan, general manager of Magma's Custom Design Business Unit. "Many FineSim users are reporting impressive productivity improvements, underscoring the software's ability to simulate tough analog designs fast."

FineSim SPICE: Fast and Accurate Simulation

FineSim SPICE is a SPICE-level simulation analysis tool that incorporates transistor-level simulation analysis capabilities for mixed-signal and analog designs. FineSim SPICE is a full SPICE simulation engine with distributed processing that enables customers to simulate large-scale mixed-signal system chips at the transistor level. By providing increased speed and capacity while maintaining full SPICE accuracy, FineSim SPICE enables designers to simulate advanced circuits - such as PLLs, ADCs (analog-to-digital converters), DACs (digital-to-analog converters) and gigahertz SERDES (SERializer/DESerializer) - that they previously would not even attempt using slower traditional SPICE simulators.

Magma is a registered trademark and FineSim is a trademark of Magma Design Automation Inc. All other product and company names are trademarks or registered trademarks of their respective companies.

Forward-Looking Statements:

Except for the historical information contained herein, the matters set forth in this press release, including statements that FineSim SPICE offers fast, accurate circuit simulation and other statements about the features and benefits of Magma products, are forward-looking statements within the meaning of the "safe harbor" provisions of the Private Securities Litigation Reform Act of 1995.These forward-looking statements are subject to risks and uncertainties that could cause actual results to differ materially including, but not limited to, Diodes Incorporated's decision to continue using Magma's software; both companies' abilities to keep pace with rapidly changing technology; and their products' abilities to produce desired results. Further discussion of these and other potential risk factors may be found in Magma's public filings with the Securities and Exchange Commission (www.sec.gov) . Magma undertakes no additional obligation to update these forward-looking statements.
Synopsys GmbH
Leading semiconductor companies worldwide use Magma's electronic design automation (EDA) software to produce chips for a wide variety of vertical markets including tablet computing, mobile devices, electronic games, digital video, networking, military/aerospace and memory. Silicon One, Magma's technology solutions for emerging silicon, address time to market, product differentiation, cost and performance while making silicon more profitable. Magma products include software for digital design, analog implementation, mixed-signal design, physical verification, circuit simulation, characterization and yield management. The company maintains headquarters in San Jose, Calif., and offices throughout North America, Europe, Japan, Asia and India. Magma's stock trades on Nasdaq under the ticker symbol LAVA. Follow Magma on Twitter at www.Twitter.com/MagmaEDA and on Facebook at www.Facebook.com/Magma. Visit Magma Design Automation on the Web at www.magma-da.com

Press releases you might also be interested in
Weitere Informationen zum Thema "Software":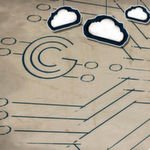 Warum "Minimum Viable Cloud" ein Schreckgespenst ist
Et­wa vor ei­nem Jahr hör­te ich im Rah­men ei­ner Pro­jekt­be­sp­re­chung erst­mals das sch­reck­li­che Akr­o­nym "MVC". Mein Kon­takt nann­te die­se Ab­kür­zung wie­der und wie­der und ich wuss­te nicht, was sie be­deu­te­te. Zu­nächst tipp­te ich auf "Mo­del-View-Con­trol­ler", bis ich lern­te, dass MVC für "Mi­ni­mum Via­b­le Clou­d" steht. Der Be­griff lei­tet sich von "Mi­ni­mum Via­b­le Pro­duc­t", kurz MVP ab, wört­lich ein "mi­ni­mal über­le­bens­fähi­ges Pro­duk­t".
Weiterlesen