prelonic develops printed light module
Linz

, (PresseBox) -
Flashing lights on packaging, illuminated magazine covers and books with really "highlighted" areas - everything fully printed via conventional printing processes in normal printing environment, direct on paper and cardboard and fully integrated - the dream of every marketing guy - prelonic is on the way to realize it.

Gimmicks which create unexpected effects and attract attention are needed to distinguish from others. Making products stand out, impressing with light-effects and some kind of visual loudness, are opportunities marketing and publishing people are looking for at any time. Since printed electronics has promised that for years, it is not surprising, that many developers are working on such matters. prelonic technologies seems to be ahead in this area of development. But there are also some critical parts Dr. Eibensteiner from prelonic knows: "it is not the printed lamp - that is an old and mature technology - it is the driver and the integration, which are really challenging."

But what are the alternatives? LEDs are available, but not printable and they still require pick place processes and show only small light spots - even if they are very robust and bright. OLEDs are area lights, but not accessible for the targeted applications for many reasons, like clean room processes, encapsulation needs and high costs. Electroluminescence still seems to be the only light technology which will be available in the next years with reasonable effort.

The full development and roll-out of the fully printed light technology will take some time, but after that very cost efficient printed lights on magazines, books and packaging will be available.

Dr. Eibensteiner explains the development work which still has to be done: "Most of the parts are already printed and fully integrated. The lamp, connectivity, switch and battery are printed directly to the paper or cardboard. But with the driver, we are only half the way.

Most parts of the driver are already printed. However, some are still under development. And we are working on miniaturisation, because at the moment, the needed area is more than an A5 sheet of paper. At the end it will come down to a fully printed driver and few square centimeters."

The first applications will be hybrid ones, since the driver is still not fully printed. But prelonic realised an impressive functional breakdown, which now allows to print most of the driver components and to complete it with few simple conventional functionalities.

Likewise unique is the utilization of conventional screen printing in a normal paper and cardboard environment, which is a pre-condition for low cost mass production.

Friedrich Eibensteiner

Dr. Eibensteiner is founder of prelonic and an innovative entrepreneur with 15 years of experience in building up high tech companies. Prior to starting prelonic he was managing and growing high tech companies in the fields of printed electronics and transponder technology.

From 1997 to 2000 he ran his own consulting company (SYSAN - Systemic answers) in the technology segments Biotechnology and Systems Analysis, before he joined the Trierenberg Group and built up the Systems Integrator for Transponder Technology TRICON. Before founding prelonic he was CEO and Managing Director of the Nanoident Organic FAB GmbH.
Press releases you might also be interested in
Weitere Informationen zum Thema "Produktionstechnik":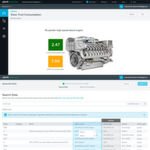 Splunk wertet industrielle IoT-Daten aus
Mit Sp­lunk In­du­s­trial As­set In­tel­li­gen­ce (IAI) stellt der Spe­zia­list für Ma­schi­nen­da­ten sei­ne ers­te Lö­sung für das In­ter­net der Din­ge (IoT) vor. Sie er­mög­licht die Aus­wer­tung in­du­s­tri­el­ler IoT-Da­ten.
Weiterlesen