Efficiency record with flexible OLED
OSRAM achieves an important milestone on the road to widespread application
Munich

, (PresseBox) -
has recorded yet another important success with regard to research in the field of organic light diodes (OLED). The company's researchers have developed so-called "flexible" OLED, which attain an efficiency of 32 lm/W - which is a record value. In so doing, after the rigid OLED, OSRAM has now also reached an important milestone on the road to broad commercial application for flexible OLED.

A central challenge in the field of OLED development is to succeed at achieving an efficiency increase, whilst at the same time attaining consistently good performance characteristics. It is the prerequisite to ensure that OLED can prevail as a widespread form of lighting technology, complementary to LED. OSRAM has now succeeded in attaining a record efficiency of 32 lm/W for flexible OLED. The technical basis for this success is provided by a special electrode design. The substrate for the OLED is a steel foil with a thickness of approximately 100 micrometers - thus meaning it is as thin as a sheet of paper. Because this steel foil is opaque, the light cannot shine through it as would be the case with rigid OLED on glass, but has to shine to the upper side. This so-called "Top-Emitter" technology makes it more complicated to design high-quality white light.

For the OSRAM researchers it was important to ensure that both the OLED as well as the test would be created as realistically as possible, so as to ensure that it would provide the opportunity to draw conclusions for the subsequent commercial application. For this reason a large-surface OLED sample was tested, and not a smaller reference part. The brightness setting was fixed at 1,000 cd/m². The measurements were made in an integrating sphere - without using any manipulating macroextractors such as, for instance, lens assemblies, which have the purpose of increasing the light yield.

Towards mass application

Research samples such as the record OLED represent an important step on the road to providing flexible OLED in widespread commercial application. "With this research success, OSRAM further underscores its leading position in the field of OLED," said Ulrich Eisele, head of OLED at OSRAM. The head of technology, Thomas Dobbertin, supplemented this comment by stating that "with this sample, we are able to demonstrate that flexible OLED can already be significantly more efficient than halogen lamps. This was only made possible thanks to our ability to transfer our strong competence in the field of vacuum processing of organic functional materials and space saving thin film encapsulation onto flexible OLED."

In the recent past, OSRAM continued successfully to set standards in the field of OLED technology: in this regard, a value of 87 lm/W was recently attained with the conventional glass version. This value is almost equivalent to the efficiency of a fluorescent lamp. The first pilot production line for OLED was opened in Regensburg at the end of August. At the same time, the technology is also being deployed in a permanently increasing number of applications. The first solutions in the field of office applications and retail have already been put into operation in Munich and Berlin.

When viewed from a purely technical aspect, OLED refers to semiconductors that convert electricity into light, as is the case with the sister technology LED. Whilst LED emits punctiform light that is derived from an extremely small luminous chip, the so-called OLED panels generate an illuminating surface. For this, a variety of different organic synthetic materials are evaporated onto a basic material. The illuminating OLED layer has a thickness of approx. 400 nanometres - which is equivalent to one hundredth the thickness of a human hair. Depending on the basic material that is utilised, when OLED are switched on, they can be designed either in a mirroring, neutral white or transparent light.

The record results were attained within the context of the grant project TOPAS2012. The joint project of the Federal Ministry of Education and Research (grant project number 13N10474) supports the OLED research being done at OSRAM. The objective of the project is to further develop OLED as lighting of the future.
OSRAM GmbH
OSRAM AG (Munich, Germany) is a wholly-owned subsidiary of Siemens AG and one of the two leading light manufacturers in the world. In financial 2010 (ended September 30), it achieved revenue of 4.7 billion Euros. OSRAM is a high-tech company in the lighting sector and 70 percent of its revenue comes from energy efficient products. The company, which is very much internationally oriented, has around 40,000 employees worldwide, supplying customers in 150 countries from its 42 production sites in 16 countries (September 30, 2010). Additional information can be found in the internet at www.osram.com
Press releases you might also be interested in
Weitere Informationen zum Thema "Elektrotechnik":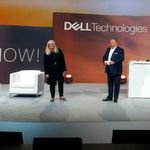 Digitalisierung erfordert nahtlose Kommunikation
Dells Ta­ges­ver­an­stal­tung The Next Now! In Mün­chen woll­te Hil­fe­stel­lung leis­ten auf dem Weg zur Di­gi­ta­li­sie­rung der Un­ter­neh­men in Deut­sch­land. Wel­che St­ra­te­gi­en und Rah­men­be­din­gun­gen er­wei­sen sich als güns­tig, was soll ver­mie­den wer­den?
Weiterlesen