Novaled demonstrates reliable OLEDs on metal substrates
Dresden

, (PresseBox) -
Novaled, a leading company in OLEDs for display and lighting applications, demonstrated it's know how and expertise on efficient and long lifetime OLEDs on metal at the Light and Building Frankfurt.

Novaleds PIN OLEDs on metal substrates combine the attractive appearance and superior physical properties of the metal substrates with the unique features of Novaled OLEDs such as long lifetime of up to 20.000 hrs. Metal substrates like steel or aluminium have excellent barrier properties, flexibility and robustness for handling. OLEDs on metal can be used in applications where magnetic clipping of the OLEDs is intended or where soldering, drilling and similar assembly steps are required. Furthermore, metal will also allow for bended or bendable OLED solutions. As this substrate material has very good heat conducting properties, OLEDs on metal are advantageous in application where heat dissipation is critical. In addition, metal substrate opens the roadmap towards low cost rolltoroll mass production of OLEDs.

Novaled has a profound know how on how to build OLEDs on metal. Together with Arcelor Mittal Novaled has been developing OLED structures for steel substrates since 2006. In the German project Rollex Novaled contributed since 2007 to develop OLEDs on flexible aluminium substrates.

"Besides demonstrating excellent results with OLEDs on glass Novaled has developed a unique know how on OLEDs on metal", says Gildas Sorin, CEO Novaled AG. "With OLEDs on metal Novaled is extending the range of lighting applications and solutions to specific market needs."

The OLEDs manufactured by Novaled for luminaires and light sculptures shown at Light + Building Frankfurt are processed directly on steel plates of 0.7mm thickness. The metal substrate requires specific top emitting OLED structures. Novaled has developed a dedicated ITO free OLED architecture reaching performances similar to standard bottom emission structures. In addition Novaled is developing thin film encapsulation which will enable bended OLEDs.

What are OLEDs?

OLEDs (organic lightemitting diodes) are semiconductors composed of layers of thin organic materials which are only a few nanometres thick. The light they emit diffuses to form an area light source. In the rapidlygrowing display market, OLEDs are a key part of the revolution: the dream of paperthin, highlyefficient displays with brilliant colours and great design flexibility. OLEDs represent the future for a vast array of completely new lighting applications. By combining colour with shape, organic LEDs will introduce a new way to use light for decorating and creating personalized surroundings. Additionally, OLEDs offer the potential to become even more cost and energyefficient than energysaving bulbs.
Novaled AG
Novaled AG is a worldclass technology provider in organic lightemitting diode (OLED) technologies. Together with its proprietary materials, Novaled markets its advanced Novaled PIN OLED® technology to display and lighting makers preparing their entry into this promising new field.

In operation since March 2003, the company has developed into a leading technology provider with a strong intellectual property position. In this short time Novaled has attained the world record in power efficiency.

Press releases you might also be interested in
Weitere Informationen zum Thema "Optische Technologien":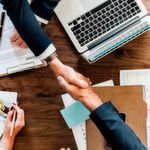 Deutsche Telekom und SAP schließen IoT-Partnerschaft
Die Deut­sche Te­le­kom und SAP bau­en ih­re Zu­sam­men­ar­beit wei­ter aus und wol­len sich künf­tig ge­mein­sam dem In­ter­net der Din­ge (IoT) für Lo­gis­tik in Echt­zeit wid­men.
Weiterlesen