Nokia Siemens Networks successfully conducts world's first, live EDGE Evolution Downlink Dual Carrier trial
New technology offers continuous data services between GSM and 3G networks
Beijing, China

, (PresseBox) -
Nokia Siemens Networks has conducted a trial of a new technology that allows for seamless service continuity between GSM and China's currently evolving 3G network. The company worked with one of China's leading operators to conduct the world's first successful trial of EDGE Evolution Downlink Dual Carrier (DLDC).

The technology doubles data speeds on EDGE (Enhanced Data GSM Environment) networks enabling end users on a GSM network to experience higher throughput and data capability. It also considerably increases system resource efficiency, enabling more end users and data traffic through existing GSM networks.

Innovative solutions like DLDC can help create a more powerful, overall network that can handle ever increasing data traffic loads and therefore improve an operators' opportunities to generate revenue from its data services. By enabling an efficient and cost effective use of available transceiver resources, it ensures that when 3G users move into an area without 3G coverage they can switch into the GSM/EDGE with minimal change in end user experience.

Nokia Siemens Networks initially conducted the trial in its Beijing development center before replicating the process in the live network of a Chinese operator. Showcasing live video streaming from the Sina and Youtube websites, Nokia Siemens Networks demonstrated how, with DLDC activated, the end user continues to perceive a positive and smooth streaming experience.*

"The success of this trial underlines the tremendous efforts we have put behind GSM evolution, giving us a clear lead over our competitors by at least half a year," said Prashant Agnihotri, Head of GSM/EDGE Product Management, Radio Access, at Nokia Siemens Networks. "While we are extremely proud of this worldwide technology first, we are more excited with the immediate and significant benefits for our customers. Securing seamless user experience in a country where 3G is in the process of being rolled out, enables us to truly support China's next phase of growth."

In addition to improving current radio networks' efficiency and protect operator investment towards future evolution, EDGE Evolution DLDC will positively influence GSM/LTE spectrum re-farming, ensuring better overall usage of resources.
Nokia Siemens Networks
Nokia Siemens Networks is a leading global enabler of telecommunications services. With its focus on innovation and sustainability, the company provides a complete portfolio of mobile, fixed and converged network technology, as well as professional services including consultancy and systems integration, deployment, maintenance and managed services. It is one of the largest telecommunications hardware, software and professional services companies in the world. Operating in 150 countries, its headquarters are in Espoo, Finland. www.nokiasiemensnetworks.com

Engage in conversation about Nokia Siemens Networks' aim to reinvent the connected world at http://unite.nokiasiemensnetworks.com and talk about its news at http://blogs.nokiasiemensnetworks.com

Find out if your country is exploiting the full potential of connectivity at http://connectivityscorecard.org


Press releases you might also be interested in
Weitere Informationen zum Thema "Kommunikation":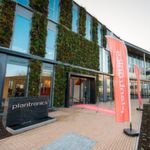 Plantronics übernimmt Polycom
Für rund zwei Mil­li­ar­den US-Dol­lar kauft Pl­an­tro­nics sei­nen Kon­kur­ren­ten Po­ly­com. Mit der Über­nah­me baut Pl­an­tro­nics sei­ne Po­si­ti­on im lu­k­ra­ti­ven UCC-Markt wei­ter aus.
Weiterlesen