Experience and share the best in S60
S60 device portfolio is expanding with Samsung L870
S60 Summit, Barcelona, Spain

, (PresseBox) -
The two-day S60 Summit was opened today in Barcelona. The event highlights the largest contingent of mobile application developers in the event's history including more than 60 exhibits featuring location, enterprise, social media and productivity solutions as well as the latest devices. This annual event is open to all members of the S60 ecosystem, such as S60 device manufacturers, operators, service providers, hardware technology providers, software developers, analysts, scientists and academics from all continents.

"S60 Summit offers the S60 stakeholders an opportunity to share and discuss the S60 future trends and business opportunities," said Matti Vänskä, Vice President, Mobile Software Sales and Marketing, Nokia. "Today the collaboration with one of the key stakeholders, Samsung, is strengthened with the launch of the business style L870. This announcement increases the total count of announced S60 devices to 79," he continues.

S60 supports a wide selection of device segments from S60 device manufacturers. In the S60 Summit, Samsung presented their latest stylish S60 mobile, Samsung L870. Leveraging the capabilities of S60 platform, the device brings full connectivity and business application offering to the hands of the business professionals.

"We are happy to compliment our product portfolio with yet another appealing S60 mobile, Samsung L870 that is fully customized with style, performance and user interface," says, Jongin Kim, Vice President of Mobile Communication Division of Samsung Electronics. "With S60, we can successfully deliver the latest mobile technology with fully customizable applications and intuitive user interfaces."

In this event, S60 further demonstrated the extended capabilities announced in April at Web 2.0 in San Francisco. The evolution of S60 Web Run-Time offering allows creation of personal and context aware widgets with access to information and functionalities from the user's mobile device. This enables the development of exciting new services and mash-ups by combining the power of the Web with the power of the S60 platform. S60 is also expanding its support for open source innovation through Open C++, bringing support for Standard Template Library and other popular platform-independent C++ libraries to the S60 platform. The implementation of these technologies was demonstrated by several companies at the S60 Summit expo.

Today, S60 also announced the opening of the Ambassador website. The S60 Ambassador program encourages and engages the early adopters consumer segment in discussion and sharing information on S60-based products, services and applications. Visit and register at the Ambassador website at www.ambassadors.s60.com

For more information on S60 Summit, visit www.S60.com/S60Summit08

About S60

S60 software built on Symbian OS is the world's leading smartphone software, and is licensed by some of the industry's foremost mobile device manufacturers. More than 150 million S60 devices had been shipped by all licensees by January 2008. The flexibility of the S60 software allows for various hardware designs and software configurations, as evidenced by the multitude of S60 devices already available on the market. Through its award-winning user interface, extensive support for new mobile services and the innovation potential for partner solutions, the S60 provides an open and scalable business opportunity for mobile operators and 3rd party developers. For further information and news about the S60 and the S60 community, please visit www.s60.com.
Press releases you might also be interested in
Weitere Informationen zum Thema "Software":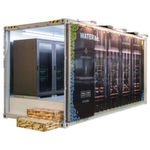 Cloud&Heat Technologies expandiert nach Asien
Cloud&Heat Tech­no­lo­gies hat ei­ne Han­del­s­part­ner­schaft mit Ina­ba­ta & Co. Ltd. aus Ja­pan ge­sch­los­sen. Da­mit star­tet das Dres­de­ner Un­ter­neh­men den Ver­trieb sei­ner Re­chen­zen­trums- und Cloud-Pro­duk­te im asia­ti­schen Raum. Ina­ba­ta ist zu­g­leich der ers­te asia­ti­sche Kun­de, der ei­nen Auf­trag er­teilt hat.
Weiterlesen