LipoNova Got General Approval from FDA for The Overall Development Program of The Autologous Tumor Vaccine in Renal Cancer
The US registration authority FDA shows LipoNova the way to the US market for its first product candidate Reniale(R)
Hannover

, (PresseBox) -
LipoNova AG (WKN LNAG00) the pioneering developer of Reniale(R), the world's first autologous vaccine for renal cell carcinoma (RCC) has been given the go-ahead by the FDA for its overall development program. The Pre-IND meeting has been the first milestone for LipoNova towards the approval of the new international phase III study.

Dr. Cornelius Sobel, Chief Executive Officer said: "We are delighted with the outcome of this meeting. Today marks a significant step towards Reniale(R) becoming available as the first ever autologous tumor vaccine for patients who have renal cell carcinoma.

The approved program allows us to move to an international phase III trial, which demonstrates that our well-designed process meets the expectations of the agency. The FDA encouraged us to submit the IND for the phase III study which we plan to start in the first half of 2008."

Reniale(R) has previously been tested in a phase-III clinical study on adjuvant therapy of renal cell carcinoma in Germany which demonstrated positive therapeutic results with improved disease free and also overall survival rates while maintaining the quality of life.

At present, no approved adjuvant treatment exists for patients suffering from renal cell carcinoma after surgical removal of the tumor. There is an urgent need for a new medical treatment for this unmet medical need. Reniale(R) would be the first autologous tumor vaccine anywhere in the world with no other comparable therapy on the market.

In Europe and the USA about 100 thousand patients are diagnosed each year with RCC and the majority of them receive surgery to have the tumor removed and would then be candidates for the adjuvant treatment with Reniale(R). The revenues from a 40% take up of Reniale(R) by this patient population would be worth 1 billion Euros per year. The new study is expected to include 800 patients and recruitment may last approximately 24 months. The cost of the study is expected to range between 25-30 million Euros.
LipoNova AG
LipoNova is developing an effective therapy for non-metastatic renal cell carcinoma (RCC), a serious disease with high unmet medical need and are pioneers in the development of autologous tumour vaccines, a new class of compounds for combating diseases of this type. LipoNova has successfully completed a Phase-III clinical study on adjuvant RCC with Reniale(R) their lead product, the world's first autologous treatment with demonstrated efficacy and safety as an adjuvant therapy in non-metastatic RCC.

LipoNova is well positioned to bring Reniale(R) to market with an international Phase III study planned to start 2008 and as this progresses, it will expand its oncology franchise in the short to medium term through partnering, mergers and acquisitions.
Press releases you might also be interested in
Weitere Informationen zum Thema "Forschung und Entwicklung":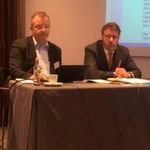 Bundesverband Künstliche Intelligenz will KI-Einsatz voranbringen
Sprach­rohr der KI-Bran­che soll der neue Bun­des­ver­band Künst­li­che In­tel­li­genz sein, der am Mit­te März von 24 Un­ter­neh­men ge­grün­det wur­de. Zu den Zie­len ge­hört För­de­rung ei­nes Men­schen-zen­trier­ten und Men­schen-di­en­li­chen Ein­sat­zes von KI-Tech­no­lo­gi­en.
Weiterlesen