Switch Mode USB Power Manager with Integrated 1A Buck-Boost Maximizes Battery Run Time & Minimizes Heat
Milpitas,CA

, (PresseBox) -
Linear Technology Corporation announces the LTC3566, the latest in a family of compact next-generation, multi-function power management solutions for Li-Ion/Polymer battery applications. The LTC3566 integrates a switching PowerPath™ manager, a stand-alone battery charger, a 1A high efficiency synchronous buck-boost regulator, an ideal diode and controller, plus an always-on LDO, all in a compact, low-profile 4mm x 4mm QFN package. The LTC3566's PowerPath control feature seamlessly manages power flow between multiple input sources such as a wall adapter or USB port and the Lithium battery while preferentially providing power to the system load. In addition, its "instant-ON" operation ensures power to the system load even with a dead battery. For fast charging, the LTC3566's switching input stage converts nearly all of the 2.5W available from the USB port to charging current, enabling up to 700mA from a 500mA limited USB supply and up to 1.5A when wall powered. An internal 180milliohm ideal diode plus optional external ideal diode controller provide a low loss power path from the battery to the system load, further minimizing heat generation and maximizing efficiency.

The LTC3566's onboard synchronous buck-boost regulator can deliver up to 1A continuously and is ideal for efficiently regulating a 3.3V output voltage over the full Lithium battery voltage range, down to 2.75V input. The regulator's internal low RDS(ON) switches enable efficiency as high as 94%, maximizing battery run time. In addition, Burst Mode® operation optimizes efficiency at light loads with a quiescent current of only 20uA (<1uA in shutdown).

The high 2.25MHz switching frequency allows the use of tiny low cost capacitors and inductors less than 1mm in height. Furthermore, the regulators are stable with ceramic output capacitors, achieving very low output voltage ripple.

The LTC3566 features USB-compatible programmable current limiting to 100mA/500mA/1A, while its Bat-Track™ adaptive output control enables high efficiency battery charging and reduces power dissipation. Stand-alone autonomous operation simplifies design, eliminating the need for an external microprocessor for battery charge termination. To preserve battery energy, the LTC3566 draws only 38uA in suspend mode. The charger is compatible with inputs up to 5.5V (7V absolute maximum transient for added robustness).

The LTC3566 is available from stock in a compact, low-profile (0.75mm) 4mm x 4mm QFN-24 package.

Summary of Features: LTC3566
- Complete Multi-Function PMIC: Switching Power Manager, Li-Ion/Polymer Battery Charger, 1A Buck-Boost Regulator & LDO
- Thermally Enhanced, Low Profile (0.75mm) 24-Lead 4mm x 4mm QFN Package Power Manager & Battery Charger
- High Efficiency Switching PowerPath Controller with Bat-Track Adaptive Output Control
- Maximum Charge Current Programmable up to 1.5A from Wall Adapter
- Up to 700mA Charge Current from USB Port DC/DC Converters
- High Efficiency Buck-Boost Regulator: 1A IOUT
- Buck-Boost Regulator Adjustable Output Voltage Range: 2.75V to 5.5V
- Burst Mode Operation for Low IQ: 20uA for Buck-Boost Regulator
- Always-On 3.3V/25mA LDO
LINEAR TECHNOLOGY GmbH
Linear Technology Corporation, a manufacturer of high performance linear integrated circuits, was founded in 1981, became a public company in 1986 and joined the S&P 500 index of major public companies in 2000. Linear Technology products include high performance amplifiers, comparators, voltage references, monolithic filters, linear regulators, DC-DC converters, battery chargers, data converters, communications interface circuits, RF signal conditioning circuits, uModule(TM) products, and many other analog functions. Applications for Linear Technology's high performance circuits include telecommunications, cellular telephones, networking products such as optical switches, notebook and desktop computers, computer peripherals, video/multimedia, industrial instrumentation, security monitoring devices, high-end consumer products such as digital cameras and MP3 players, complex medical devices, automotive electronics, factory automation, process control, and military and space systems. For more information, visit www.linear.com.

LT, LTC, LTM, Burst Mode and are registered trademarks and uModule is a trademark of Linear Technology Corp. All other trademarks are the property of their respective owners.
Press releases you might also be interested in
Weitere Informationen zum Thema "Electrical Engineering":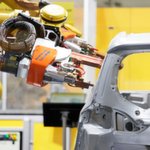 1,7 Millionen Industrie-Roboter erneuern Fabriken weltweit bis 2020
Bis 2020 wer­den mehr als 1,7 Mil­lio­nen neue In­du­s­trie-Ro­bo­ter in den Fa­bri­ken der Welt in­stal­liert. Die Ro­bo­tik-Bran­che in Asi­en ver­zeich­net da­bei ak­tu­ell das stärks­te Wachs­tum – an­ge­führt von Chi­na als Welt­markt­füh­rer. Im Jahr 2017 sind die Ro­bo­ter­in­stal­la­tio­nen in der Re­gi­on Asi­en-Aus­tra­li­en vor­aus­sicht­lich um 21 Pro­zent ge­s­tie­gen, in Nord- und Süda­me­ri­ka um 16 Pro­zent und in Eu­ro­pa um acht Pro­zent. Das sind Er­geb­nis­se aus dem World-Ro­botics-Re­port 2017, der von der In­ter­na­tio­nal Fe­de­ra­ti­on of Ro­botics (IFR) ver­öf­f­ent­licht wur­de.
Weiterlesen