Finest finishing with the KBA Rapida RSP 106
Drupa 2016: Rotary screen printing - Made by KBA
Würzburg

, (PresseBox) -
Print finishing and for the first time post-press were major topics on the KBA stand at Drupa which recently closed its doors. One innovation presented by KBA-Sheetfed at new user Kolbe-Coloco Spezialdruck in Versmold, Germany, drifted rather out of focus in the midst of Drupa: the new Rapida RSP 106 rotary screen printing press.

KBA-Sheetfed developed the Rapida RSP 106 as an offline finishing system for luxury packaging, high-quality promotional material and corporate publishing based on the renowned Rapida platform (feeder, delivery, sheet travel, dryer, console etc.). This means that working with the new machine is almost routine for operators who have worked with a Rapida sheetfed offset press and it is easy to operate for those who haven't. Special finishers or offset printers who wish to expand their portfolio by adding extremely high-quality finishing are a key target group for the Rapida RSP 106. A further group is screen printers who finish large print runs. They profit from its high production speed of up to 8,000sph depending on job. What is more, the new rotary screen printing press is also suited to new business fields in the field of industrial printing. As part of post treatment the rotary screen system is one of many options for the new KBA VariJET 106 Powered by Xerox inkjet press.

Sheet preparation for high-quality coating

The Rapida RSP 106 consists of a calendar unit and the actual screen printing unit. The calendar unit de-powders the printed sheets and removes any impurities. The sheets are smoothed to improve the spreading of the coating.

The calendar unit consists of one impression cylinder with a special compressible jacket as well as a switched chrome roller. This is in addition to the fully automatic blade system with integrated extraction. It removes foreign particles from the chrome roller and extracts these. The calendar unit adapts precisely to the respective substrate with its finely adjustable printing pressure.

Clean production in screen printing

The screen printing unit itself is equipped with the AirTronic Drum, a perforated impression cylinder with a perforated jacket. Air suction fixes the sheet over the full area of the jackets. Above it is the rotary screen which can be changed quickly in a few simple steps. The exact positioning of the closed screen area during breaks in printing results in a clean working environment. The screen only rotates when sheets run through the unit.

The blade can be accessed from the side for changing. The stepless, motorized setting of the blade pressure and angle make working both directly at the screen printing unit and the operating panel, plus full console integration of all components easy. The screen cylinder is driven individually. The drive positions the screen with the gap area facing downwards ensuring that the coating or ink does not leak during production stoppages. The circumferential register and if necessary corrections to the print length are set via the individual drive. The motorized cylinder pressure setting adjusts the unit to various substrate thicknesses.

Economic rotary screen production

The Rapida RSP 106 can be used with the most varied fabric and screen types. A smart in-house workflow in pre-press reduces the outlay for rotary screen making.

Screens are usually supplied cut-to-format and with hole patterns for film positioning and seam welding. Exposure, washing out and drying processes are the same as for flat screens. Steps specific to rotary screens include seam welding and mounting of the end rings. Special handling fixtures are available for both of these steps.

Available now

The Rapida RSP 106 is tried and tested, and has been available since Drupa 2016. Alongside the machine which has been in operation at Kolbe-Coloco Spezialdruck in Versmold (North Rhine-Westfalia, Germany) for some months now, a Rapida RSP 106 will soon also be in the customer centre at KBA-Sheetfed for demonstration and testing purposes.
Press releases you might also be interested in
Weitere Informationen zum Thema "Produktionstechnik":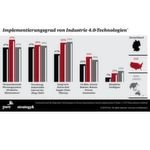 Digitale Transformation hat in Deutschland noch langen Weg vor sich
Ei­ne PwC St­ra­te­gy& Stu­die zeigt: Nur ein Pro­zent der deut­schen Un­ter­neh­men sind di­gi­tal be­son­ders her­aus­ra­gend. Un­ter­neh­men in Asi­en und Ame­ri­ka hän­gen Deut­sch­land bei der Im­p­le­men­tie­rung neu­er Tech­no­lo­gi­en und di­gi­ta­ler Öko­sys­te­me ab. Im­mer­hin soll der Um­satz­an­teil di­gi­ta­ler so­wie di­gi­tal er­wei­ter­ter Pro­duk­te in Deut­sch­land laut der Stu­die von ak­tu­ell 16 Pro­zent auf 22 Pro­zent im Jahr 2023 stei­gen.
Weiterlesen