New GMG DotProof XG supports wide-gamut inkjet printers
The new GMG DotProof XG module now enables users to exploit the advantages of the Epson Stylus Pro x900 and HP Designjet Z3200 multicolor printer series with expanded color gamut
Tübingen

, (PresseBox) -
GMG, supplier of high-end color management and proofing solutions, introduces the new GMG DotProof XG (Extended Gamut) module, an option for the well-known GMG DotProof and GMG FlexoProof digital proofing solutions. GMG DotProof XG enables users to make the most of the expanded color gamut of Epson Stylus Pro x900 and HP Designjet Z3200 printers, allowing far more spot colors to be simulated in a halftone proof. Until now, an extended gamut could only be produced using expensive and slow thermal halftone proofing systems. GMG DotProof XG will be available within the next 30 days.

In the past, some expanded color spaces based on highly pigmented inks or spot colors could not be proofed on conventional inkjet proofing devices, because their gamut were too limited. Epson Stylus Pro x900 and HP Designjet Z3200 printers work with additional inks to provide a wider gamut. The new GMG DotProof XG module is able to take advantage of this wider gamut and create halftone proofs in GMG quality. This is particularly important for the simulation of color spaces based on highly pigmented inks, multicolor processes or the simulation of spot colors. For example, it enables packaging companies or packaging-related prepress businesses to reduce the number of press proofs by replacing them by GMG halftone proofs.

In platesetting, parameters like screen, overprinting and trapping settings, as well as correction curves, have a significant influence on the subsequent printed result. Should problems occur at this point, such as an unfavorable screen angle, incorrect trapping or overprinting settings, and also interpretation errors, this can only be detected at an early stage by producing a halftone proof created with the original imagesetter data. A halftone proof is also indispensable for printing processes where coarse screening, has a major influence on visual impression. GMG DotProof and GMG FlexoProof allow direct processing of 1-bit imagesetter data, so that they can be inexpensively proofed on inkjet printers, and errors detected before platesetting or the start of a press run.

"Unlike many competitive products, GMG DotProof and GMG FlexoProof produce color-accurate halftone proofs of contract-proof quality according to GMG's quality standards. The new GMG DotProof XG module now also enables our customers to fully benefit from all the advantages of halftone proofing in combination with the Epson Stylus Pro x900 and HP Z3200 printer series in a very quick and economical way," says Paul Willems, CEO of GMG GmbH & Co. KG.
GMG GmbH & Co. KG
The software company founded in 1984 and located in Tuebingen, near Stuttgart, Germany, has a worldwide distribution network with local presence in France, Spain, Benelux, Nordic, the UK, Asia and the Americas. GMG has specialized in high-end color management for the entire graphic arts industry. Today, more than 9,000 systems have been sold across the industry spectrum from ad agencies, prepress houses and offset printers to newspapers, flexo converters and international gravure printing plants. In fact, the GMG ColorProof system has become the de-facto standard of Europe's extensive gravure printing industry.

About the GMG family of products: GMG ColorProof, a color management software system, provides the most accurate way of calibrating digital inkjet proofing engines to produce digital contract color proofs, precisely matched to the printing press. GMG DotProof® enables users to generate contract quality halftone proofs, using the original bitmap data of the output RIP. Specifically tailored to the needs of the packaging industry is GMG FlexoProof, which supports specific flexo file formats and includes a complete Pantone® spot color library, along with other functions. GMG ColorServer is a tool for automatic color conversions - CMYK-to-CMYK, RGB-to-CMYK and RGB-to-RGB - for more efficient workflows. GMG InkOptimizer automatically reduces chromatic colors, thus providing cost savings by reducing unnecessary ink usage, along with better print stability on press. GMG ProofControl is the ideal solution for instant, color-accurate verification of proofs. GMG PrintControl is one single software for standardizing the press from start to finish. GMG RapidCheck is a verification tool to control the printing process at a click of the mouse. GMG Media is a range of proofing-specific papers and films for the most popular inkjet printers. They are manufactured to high tolerances for color critical applications, available in a range of sizes.

© 2009 GMG GmbH & Co. KG. The GMG product names mentioned in this document are trademarks or service marks of GMG GmbH & Co. KG and may be registered in certain jurisdictions. Other company, brand, product and service names are for identification purposes only and may be trademarks or registered trademarks of their respective holders. Data is subject to change without notice.

For more information see www.gmgcolor.com
Press releases you might also be interested in
Weitere Informationen zum Thema "Software":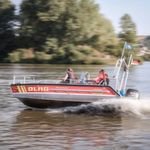 DLRG nutzt Ressourcen der Profitbricks-Cloud
Di­gi­ta­le Trans­for­ma­ti­on in Ve­r­ei­nen ist Zu­kunfts­mu­sik? Nicht so bei der Deut­schen Le­bens-Ret­tungs-Ge­sell­schaft. Bald wer­den über 1,6 Mil­lio­nen Ret­tungs­schwim­mer und eh­renamt­li­che Mit­ar­bei­ter über die Pro­fit­Bricks-Cloud si­cher ver­wal­tet. Wie SE­WO­BE 1,6 Mil­lio­nen DLRG-Mit­g­lie­der da­ten­schutz­kon­form in der Pro­fit­Bricks-Cloud ver­wal­tet, zeigt ei­ne ak­tu­el­le Fall­stu­die.
Weiterlesen