EU-US Consortium Developed Leading Cluster Computer
Jülich

, (PresseBox) -
Forschungszentrum Jülich has developed a next generation high-performance cluster computer in close cooperation with companies from Germany and USA. With this system, a new cost-efficient performance class is realized. A balanced combination of the hardware and software components optimizes the communication between the high-performance processing units. After one year of development the JULI-Project has now been completed successfully.

Cluster computers are built modularly using standard PC technology and very fast networks. Being ideal instruments for a wide range of simulation problems they stand for a large proportion of the most powerful computers in the world. The decisive factor for such a collection of parallel working computers is the fast transmission of signals across the network, the "backbone" of the computer.

"The Jülich Linux cluster JULI connects the fastest processors with the most efficient network over standardized interfaces", says Dr. Norbert Eicker of Forschungszentrum Jülich, who was coordinating the development in Jülich. "In addition, we profit from the cluster operating system ParaStation, which controls the interoperation of the components." ParaStation is a joint development of the Munich-based company ParTec and the experts in Jülich. The processors in IBM's JS21 blades are connected over the "InfiniPath" InfiniBand network developed by the US Company Qlogic. The integration of the components and creation of the interfaces was carried out in a record time of only four months through the IBM Research Laboratory in Böblingen.

"The configuration was customer driven", so Eicker. "We selected the PowerPC technology from IBM because of its superior floating point capabilities, the InfiniBand fabric technology from QLogic because of superior scaling due to latency and messaging rate, and the cluster management from ParTec due its superior management and communication functionality."

The IBM JS21 blades, which are equipped with two PowerPC 970MP dual-core processors with a top speed of 2.5 GHz, are three times faster than any of the previous blade generations. InfiniPath provides a particularly high bandwidth even for small reports and has a latency time of less than 2 µs. ParaStation ensures high availability, performance and reliability of the system and provides both administrators and users with detailed monitoring through the ParaStation grid monitor.

JULI represents an important evaluation project for Research Centre Jülich on its way to a European Peta-scale supercomputer complex.
Forschungszentrum Jülich GmbH
Das Forschungszentrum Jülich betreibt interdisziplinäre Spitzenforschung zur Lösung großer gesellschaftlicher Herausforderungen in den Bereichen Gesundheit, Energie & Umwelt sowie Informationstechnologien.
Kombiniert mit den beiden Schlüsselkompetenzen Physik und Supercomputing werden in Jülich sowohl langfristige, grundlagenorientierte und fächerübergreifende Beiträge zu Naturwissenschaften und Technik erarbeitet als auch konkrete technologische Anwendungen. Mit rund 4 400 Mitarbeiterinnen und Mitarbeitern gehört Jülich, Mitglied der Helmholtz-Gemeinschaft, zu den größten Forschungszentren Europas.
Press releases you might also be interested in
Weitere Informationen zum Thema "Research / Development":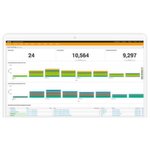 Splunk unterstützt Amazon Kinesis Firehose und GuardDuty
Der Ma­chi­ne-Lear­ning-Spe­zia­list Sp­lunk ist ei­ne st­ra­te­gi­sche Zu­sam­men­ar­beit mit Ama­zon Web Ser­vices (AWS) ein­ge­gan­gen. Ab so­fort sind In­te­g­ra­tio­nen in Ama­zon Ki­ne­sis Fire­ho­se und Guard­Du­ty ver­füg­bar.
Weiterlesen