MWG Biotech / Eurofins Medigenomix upgrade to a Genome Sequencer FLX for sequencing services
Ebersberg

, (PresseBox) -
MWG Biotech AG/ Eurofins Medigenomix GmbH have successfully upgraded their Genome Sequencer 20 from Roche to the next generation Genome Sequencer FLX system.

MWG Biotech/Eurofins Medigenomix were the first international service providers in Germany to offer their customers access to the next generation DNA sequencing technology via the Roche Genome Sequencer (GS) 20 system. Since the installation of the system at fall of last year, the companies have already been able to finalize numerous sequencing projects for academic, industrial and pharmaceutical research institutions worldwide.

The companies' sequencing platform is based on the combination of classical Sanger sequencing and sequencing-by-synthesis technology, supported by customized bioinformatics, which allows them to sequence and compare bacterial genomes in only a couple of days.

Through the FLX upgrade, the companies will continue to increase cost-effectiveness and set new standards in velocity for whole genome sequencing and a wide range of genome analysis applications. The companies' major goal is to maintain its high standard service capabilities, while offering state-of-the art technology to their customers.

Whilst the GS 20 system delivers 200.000 sequence reads with an average read length of 100 – 120 base pairs in a single run, the next generation GS FLX system increases the throughput fivefold. It is now possible to sequence 400.000 reads with an average read length of 220 – 250 base pairs, resulting in 100 million base pairs generated in only 7.5 hours and with higher accuracy per individual read and at the consensus level.

Georg Gradl, Sales Manager Sequencing Europe, says: "Based on the experience with the GS 20 in the last months and in combination with additional software tools and processes developed in-house, it is now possible to serve our customers in an even more cost effective and time efficient way."

About Eurofins Medigenomix

Eurofins Medigenomix GmbH, located in Martinsried, Germany is an innovative bioanalytical company, specialized in services for DNA analysis. The business unit for DNA sequencing and molecular biology applications is well known as outsourcing partner for the biopharmaceutical industry and academic institutions, the unit for Applied Genetics is a leading provider for DNA forensics, paternity testing in humans and animals and authenticity testing in food. A special strength of Medigenomix' team is the extensive experience in purifying and handling DNA samples from different origin for various applications in DNA analysis. For further information, please visit the corporate website at: www.medigenomix.com.
Eurofins Genomics GmbH
MWG Biotech (ISIN: DE0007300105) ist ein internationaler Anbieter von Genomik-Produkten und Dienstleistungen aus den Bereichen DNA/siRNA Synthese (Produktion synthetischer Genabschnitte) und DNA Sequenzierung (Bestimmung der genetischen Information im Erbgut). Mit starker Kundenorientierung, schnellem Service und qualitativ hochwertigen Produkten aus drei Produktionsstätten in Deutschland, den USA und Indien schafft das Unternehmen die Grundlagen für Erfolg in den Life Science Märkten weltweit.

Press releases you might also be interested in
Weitere Informationen zum Thema "Biotechnology":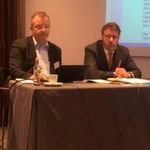 Bundesverband Künstliche Intelligenz will KI-Einsatz voranbringen
Sprach­rohr der KI-Bran­che soll der neue Bun­des­ver­band Künst­li­che In­tel­li­genz sein, der am Mit­te März von 24 Un­ter­neh­men ge­grün­det wur­de. Zu den Zie­len ge­hört För­de­rung ei­nes Men­schen-zen­trier­ten und Men­schen-di­en­li­chen Ein­sat­zes von KI-Tech­no­lo­gi­en.
Weiterlesen