Dii launches REDIMENA program for project founders
North Africa and the Middle East to double renewable energy capacity to 3.3 gigawatts by 2015
Rabat

, (PresseBox) -
Following Dii's research, the capacity of renewable energy in the Middle East and North Africa will nearly double from 1.7 gigawatts (GW) today to 3.3 GW by 2015. Given these projections, Morocco plays a leading role in expanding the currently capacity, around 0.6 GW, to 1.7 GW by 2015.

"North Africa and the Middle East are at the beginning of an impressive energy transition based on wind and sun. I am particularly pleased that companies from the Dii network play an important role in around half of the many upcoming projects," said Paul van Son, Dii's CEO at the opening of the fourth Dii Desert Energy Conference in Morocco. "Supporting the right projects in their early stages is a priority. This is why Dii has launched REDIMENA for promising projects."

REDIMENA - supporting local entrepreneurs as initiators and paving the way for renewables

As the initiator of new renewable projects, project developers are an important driver in reaching these ambitious goals. However, the amount of capital available for the high risk phase of early-stage development is often limited in the emerging markets of MENA.

REDIMENA (Renewable Energy Development and Investment Vehicle for MENA) is a tool dedicated to overcoming such hurdles. REDIMENA would co-invest €1-4M of risk capital per project to help them reach the construction phase. A well-developed, shovel-ready project then builds the basis for the much larger amounts of private sector investment necessary for constructing a renewable energy power plant. Last but not least the support of these local entrepreneurs as first movers will pave the way for further projects through demonstrating best-practice of project concepts and contractual arrangements.

As a next step, the consulting company Suntrace together with Dii will perform a feasibility study to lay the groundwork for this investment vehicle. The aim is to identify investors to set-up REDIMENA with an initial volume of €30M.

About the Conference

The 4th Dii DESERT ENERGY CONFERENCE will take place at the Corum Rabat Convention and Exhibition Center in Skhirat, Morocco from October 30-31, 2013. International representatives from science, politics and business will attend the conference to discuss network expansion and the generation of electricity from renewable energy sources and their integration. The conference program is available at www.dii-conference.com.

NGOs plan cooperation on renewable energy and climate action

Prior to the Dii conference a group of 20 representatives of non-governmental organizations from across the MENA region convened in Rabat with the support of Dii. The aim of this meeting was the preparation of an extended civil society cooperation in the MENA region that will accompany the expansion of renewable energies and actions on climate change. Paul van Son said: "Desert power is about safe and clean energy, industrial development and new jobs. But only with the involvement of local people, the energy transition will be handled properly and effectively. I am glad that this important role in North Africa and the Middle East is taken over by NGOs, bringing in the voice of civil society."

Dii published "Economic Impacts of Desert Power" in 2013 and underlined in this study the positive socio-economic benefits of the energy transition in the region. These include inter alia the development of new industries and job creation.
Dii GmbH
With partner companies from 15 countries, Dii is looking to turn power from the deserts into reality. Countries in the Middle East and North Africa (MENA) have recognized the huge economic potential of renewable energy development and are taking action in this field. Most governments in the region have agreed on solid expansion targets, which amount to a total of 50 GW by 2020. Dii as a driving force has successfully given guidance and promoted renewable energy in the MENA countries since 2009.

Based on this dynamic development the shareholders of Dii decided to develop Dii from a temporary project initiative to a permanent industry organisation.


Press releases you might also be interested in
Weitere Informationen zum Thema "Energy / Environment":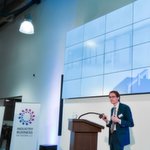 Industry Business Network 4.0 präsentiert neuen Industriestandard
IF4.0 soll der neue In­du­s­trie­stan­dard zum her­s­tel­ler­über­g­rei­fen­den In­for­ma­ti­ons­aus­tausch in ei­ner Smart Facto­ry wer­den. Der Stan­dard wur­de vom In­du­s­try Bu­si­ness Net­work 4.0 e.V. kon­zi­piert und wird von den Ver­bands­mit­g­lie­dern künf­tig kon­ti­nu­ier­lich wei­ter­ent­wi­ckelt.
Weiterlesen