The world's smallest Tetra radio device, TH1n, to serve special units of the police in Lower Saxony
Airbus Defence and Space wins contract in Germany for Tetra voice and radio data transmission devices for undercover operations
Ulm/Hanover

, (PresseBox) -
The Logistics Centre of the German state of Lower Saxony has commissioned Airbus Defence and Space to deliver digital Tetra radio devices and accessories to the police in Lower Saxony for undercover operations. The contract award followed a European-wide invitation to tender and a subsequent competitive tendering process. Thanks to good test results and the commercial efficiency of the devices, Airbus Defence and Space was able to stand up to the competition with its TH1n offering, the world's smallest Tetra terminal.

"Our TH1n is the first device in a completely new class of pocket-size Tetra radio devices. Since its launch two years ago at the Tetra World Congress, many customers around the world from the public security sector and in industry have expressed considerable interest," said Pierre Lopez, Head of Terminals & Indirect Channels Business Management at Airbus Defence and Space. "Being very small and light makes it ideal for undercover operations, which is how security forces at this spring's Munich Security Conference used the device for the second successive year."

Its unique size and shape allow users to wear the TH1n in several different ways - the device is small enough to wear on a clip holder, a shoulder holster, around the user's neck, and on a belt or lapel.
Airbus Defence and Space
Airbus Defence and Space is a division of Airbus Group formed by combining the business activities of Cassidian, Astrium and Airbus Military. The new division is Europe's number one defence and space enterprise, the second largest space business worldwide and among the top ten global defence enterprises. It employs some 40,000 employees generating revenues of approximately €14 billion per year.
Press releases you might also be interested in
Weitere Informationen zum Thema "Sicherheit":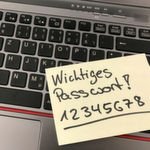 IT-Security funktioniert nur als Gesamtpaket
Fast kein Tag ver­geht oh­ne Mel­dun­gen über Cy­ber-At­ta­cken auf Un­ter­neh­men. Wer jetzt meint, dass die­ses Fir­men und ih­re Mit­ar­bei­ter an­ge­sichts die­ses Nach­rich­ten-Dau­er­feu­ers per­fek­te Schutz­me­cha­nis­men ent­wi­ckelt hät­ten, täuscht sich. Ei­ne ak­tu­el­le Um­fra­ge sieht hier noch "Luft nach oben". Auch im Fo­kus: Fahr­läs­si­ges Ver­hal­ten von Mit­ar­bei­tern.
Weiterlesen