DIY enthusiasts and professional builders benefit from free CAD with easy 3D
Cambridge, UK and Pittsford, NY

, (PresseBox) -
Free video tutorial and example design download: From a hand-drawn sketch to a 3D model with MEDUSA4 Personal. The free 2D/3D CAD software offers many useful tools for DIY enthusiasts and professional builders. An easy 3D approach, based on 2D drawings, offers fast model creation.

November 2011: In order to quickly create new floor plans or entire structures, design a piece of furniture, a conservatory, or a garden, DIY enthusiasts and professional builders need simple, cost effective software to create detailed project drawings.

The free MEDUSA4 Personal CAD Software is an ideal project companion. The system can even be used by building contractors - designs for commercial use are converted on a pay-per-result basis using the CSG eSERVICES portal.
Private not-for-profit use of the software is completely free of charge.

Download MEDUSA4 Personal free of charge: http://eservices.cad-schroer.com/

Plan, Design, Detail, Deliver
MEDUSA4 Personal is a comprehensive software package for all sorts of design and building projects. It gives users a quick head start by allowing them to integrate existing plans, such as scanned in hand-drawn designs or photographs, into their CAD drawings. Its intuitive editing functionality also makes it easy to work with existing CAD drawings in DXF/DWG format, which can be imported into the software.

Video Tutorial: Turn a pencil sketch into a 3D model with MEDUSA4 http://www.youtube.com/watch?v=veUhhY0ze6w

Download sample drawings:
MEDUSA4 Personal sheet: http://download.cad- schroer.info/M4_Drawings/Example1_SHE.zip
DXF: http://download.cad-schroer.info/M4_Drawings/Example1_DXF.zip
PDF: http://download.cad-schroer.info/M4_Drawings/Example1.pdf

The powerful functionality of the 2D/3D CAD software for Windows® and Linux® allows users to create extremely accurate, dimensioned detail drawings, as well as 3D component or assembly models using a rich 3D feature set, which allows for quick model creation based on the 2D drawings.
If a design is to be used for commercial product documentation, sent to a customer, or forwarded to a supplier for manufacturing, it has to be converted via the CSG eSERVICES portal. That means that skilled tradesmen, builders and designers don't have to pay for the software itself, only for any results achieved. Costs are only incurred once there is a commercially viable design, and can easily be attributed to specific customer projects.

Find out more about using MEDUSA4 Personal commercially: http://eservices.cad-schroer.com/

Easy to get started
CAD Schroer has made it quick and easy to get going with MEDUSA4 Personal.
The software's intuitive user interface allows users to create their own design menus via drag and drop, for example. Helpful guides include video tutorials, online documentation and a user forum.

Video Tutorial: Turn a pencil sketch into a 3D model with MEDUSA4 http://www.youtube.com/watch?v=veUhhY0ze6w
CAD Schroer GmbH
CAD Schroer is a global software development company and engineering solutions provider, helping to raise the productivity and competitiveness of customers working in manufacturing and plant design, including the automotive sector and its supply chain, the energy sector and public utilities. CAD Schroer has offices and subsidiaries throughout Europe and in the United States.

CAD Schroer's product portfolio includes 2D/3D CAD, plant design, factory layout and data management solutions. Customers in 39 countries rely on MEDUSA4®, MPDS4(TM) and STHENO/PRO® to provide an efficient, flexible and integrated design environment for all phases of product or plant design - cutting costs while raising quality. CAD Schroer emphasises close customer partnerships and supports its clients' objectives through extensive consultancy, training, development, software support and maintenance services.

Press releases you might also be interested in
Weitere Informationen zum Thema "Software":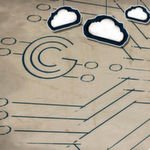 Warum "Minimum Viable Cloud" ein Schreckgespenst ist
Et­wa vor ei­nem Jahr hör­te ich im Rah­men ei­ner Pro­jekt­be­sp­re­chung erst­mals das sch­reck­li­che Akr­o­nym "MVC". Mein Kon­takt nann­te die­se Ab­kür­zung wie­der und wie­der und ich wuss­te nicht, was sie be­deu­te­te. Zu­nächst tipp­te ich auf "Mo­del-View-Con­trol­ler", bis ich lern­te, dass MVC für "Mi­ni­mum Via­b­le Clou­d" steht. Der Be­griff lei­tet sich von "Mi­ni­mum Via­b­le Pro­duc­t", kurz MVP ab, wört­lich ein "mi­ni­mal über­le­bens­fähi­ges Pro­duk­t".
Weiterlesen