Nantero Announces Qualification of New Brewer Science Cntrene® Material
Ready for NRAM® Manufacturing
WOBURN, Mass.

, (PresseBox) -
Nantero, Inc., the nanotechnology company pioneering the use of carbon nanotubes (CNTs) in the development of next-generation semiconductor devices, today announced that it has qualified Brewer Science's new CNTRENE® 1020 series CNT material for use in NRAM® manufacturing. Brewer Science is working with NRAM licensees in production CMOS fabs to utilize the new CNTRENE 1020 series material. Brewer Science is a licensed supplier of CMOS-grade CNT solutions made utilizing processes developed by Nantero for use in the manufacture of NRAM devices.

This next generation of CNTRENE materials manufactured by Brewer Science provides an increased concentration of CNTs in solution, with lower ion content (<10 ppb) and extended stability for use in standard track coater systems. This new generation of Brewer Science CNT materials allows for reduced process costs and improved on-wafer coating performance, consistent with the company's focus on integrated solutions.

Greg Schmergel, co-founder and CEO of Nantero, Inc., stated, "Brewer Science is a recognized leader in supplying advanced materials for semiconductor processing, with a global customer base, and we are pleased to have them providing our existing and future NRAM customers with fab-ready carbon nanotube material."

Thomas Rueckes, Ph.D., Co-founder and Chief Technology Officer of Nantero, will be presenting the latest advancements in NRAM technology at the Leading Edge Embedded NVM Workshop (www.e-nvm.org) on September 30, 2013 at Gardanne, France.

About Nantero

Nantero is a nanotechnology company using carbon nanotubes for the development of next-generation semiconductor products. Nantero's main focus is the commercial introduction of NRAM® - a high-density nonvolatile random access storage device. NRAM will ultimately replace all existing forms of storage, such as DRAM, SRAM, and flash memory, with a high-density nonvolatile RAM - "universal memory." The applications for the nonvolatile RAM Nantero is developing add up to over $100B in revenue potential, including the ability to enable instant-on computers and to replace the memory in devices such as cell phones, MP3 players, digital cameras, and PDAs, as well as applications in the networking arena. NRAM can be manufactured for both stand-alone and embedded memory applications. Nantero is also working with licensees on the development of additional applications of Nantero's core nanotube-based technology. For more information on Nantero, Inc., please visit www.nantero.com or email info@nantero.com.
Brewer Science Inc.
Brewer Science is a global technology leader in developing and manufacturing innovative materials, processes, and equipment for the reliable fabrication of cutting-edge microdevices used in electronics such as tablet computers, smartphones, digital cameras, televisions, and LED lighting. Since 1981, when its ARC® materials revolutionized lithography processes, Brewer Science has expanded its technology to include products enabling advanced lithography, thin wafer handling, 3-D integration, and chemical and mechanical device protection and products based on carbon nanotubes and nanotechnology. On April 30, 2013, Brewer Science broke ground on a new high-volume manufacturing facility at the Rolla National Airport. This expansion will accommodate product demand growth and demonstrates the company's commitment to continuous improvement. With its headquarters in Rolla, Missouri, Brewer Science supports its worldwide customers through a service and distribution network in North America, Europe, and Asia.

Learn more about the exciting innovation at Brewer Science at www.brewerscience.com, follow us on Twitter @BrewerScience, or Like us on Facebook at http://www.facebook.com/....

Press releases you might also be interested in
Weitere Informationen zum Thema "Mikrotechnik":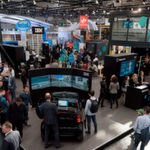 22 IIoT-Plattformen, die Sie kennen sollten
Platt­formö­ko­no­mie ist ein zen­tra­les The­ma der Han­no­ver Mes­se 2018 – ge­nau­er der Di­gi­tal Facto­ry. Von AXOOM und Ama­zon Web Ser­vices über Mi­cro­soft und Goog­le bis Sie­mens: Fast al­le Big Play­er in Sa­chen IIoT-Platt­for­men sind am Start. 20 in­ter­es­san­te Lö­sun­gen ha­ben wir für Sie zu­sam­men­ge­s­tellt.
Weiterlesen