austriamicrosystems' announces dual simultaneous sampling 1MSPS 12-bit ADC
The 12-bit AS1545 offers two independent 1MSPS ADCs, each with 6 input channels, combined with low power consumption
Unterpremstaetten

, (PresseBox) -
austriamicrosystems (SWX: AMS), a leading global designer and manufacturer of high performance analog ICs for communications, industrial, medical and automotive applications, has introduced the AS1545, a dual high-speed successive-approximation ADC with low power consumption, excellent DC performance and outstanding dynamic specifications, expanding austriamicrosystems high-speed ADC portfolio.

The AS1545 offers 12-bit resolution on each of the two ADCs and uses advanced design techniques to achieve low power dissipation at high throughput rates. At a conversion speed of 1MSPS and including the internal 2.5V reference, the AS1545 uses only 5.5mA. In full power-down mode the supply current drops to less than 1 A.

Two complete and independent ADC channels allow simultaneous sampling and conversion of two channels. The 12 input channels are software configurable allowing each ADC to offer six single-ended channels or three fully or pseudo differential pairs, as programmed. The conversion result of both ADCs is simultaneously available on separate data lines or in succession on one data line if only one serial port is available.

"High speed dual converters like the AS1545 are ideal for motor control applications," said Walter Moshammer, Marketing Director Standard Linear at austriamicrosystems.

"The 1MSPS dual ADC channels allow the simultaneous measurement of the difference of inputs. Additionally, the AS1545 offers a step-up/down counter for counting revolutions as well as a direction bit and information on the quadrature signal phases."

AS1545 operates from a single 2.7 to 5.25 V supply and contains a Vdrive (interface drive voltage) function which enables the serial interface to connect directly to either 3 or 5 V processor systems independent of the ADC's supply voltage. The ADC can be interfaced via a high speed SPI/QSPI/Microwire or DSP interface.

The AS1545 offers a rail to rail analog input range and can be selected to be a 0 V to VREF(or 2 × VREF), with either straight binary or two's complement output coding. The common mode input range of the analog inputs also goes from rail to rail. The internal 2.5V reference can be overdriven when an external reference is preferred.

The AS1545 is available in a small 5x5mm 32-pin TQFN package suitable for operating environments ranging from
-40°C to +85°C. Product-specific information and free samples via austriamicrosystems' online shop ICdirect are available at http://www.austriamicrosystems.com/AS1545/description_AS1545.htm

Electronic picture and block diagram are available on request or at http://www.austriamicrosystems.com/07presscenter/presscenter_start.htm
ams AG
austriamicrosystems' business unit Full Service Foundry has successfully positioned itself in the analog/mixedsignal foundry market offering well-established RF CMOS, High-Voltage CMOS, BiCMOS and SiGe-BiCMOS processes. With superior support during the design phase, high-end tools and experienced engineers, austriamicrosystems succeeds to be an attractive analog foundry partner especially for fabless design houses.

austriamicrosystems is a leading designer and manufacturer of high performance analog ICs, combining more than 25 years of analog design capabilities and system know-how with its own state-of-the-art manufacturing and test facilities. austriamicrosystems leverages its expertise in low power and high accuracy to provide industry-leading customized and standard analog products. Operating worldwide with more than 1,000 employees, austriamicrosystems focuses on the areas of power management, sensors & sensor interfaces and mobile entertainment in its markets Communications, Industry & Medical and Automotive, complemented by its Full Service Foundry activities. austriamicrosystems is listed on the SWX Swiss Exchange in Zurich (ticker: AMS). For more information, please visit the web site at www.austriamicrosystems.com.
Press releases you might also be interested in
Weitere Informationen zum Thema "Microtechnology":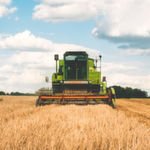 Digitale Plattformen in der Landwirtschaft
Im Rah­men ei­ner Stu­die hat sich die PA Con­sul­ting Group mit dem Stand der Di­gi­ta­li­sie­rung im Agrar­sek­tor be­fasst. Dem­nach sind vor al­lem Tech­ni­ken zur Pro­duk­ti­vi­täts­s­tei­ge­rung durch Da­ten­er­fas­sung und in­tel­li­gen­te Al­go­rith­men ge­fragt.
Weiterlesen