Sahibinden.com dominates Turkish E-Commerce
Hamburg

, (PresseBox) -
The latest and highly informative "Turkey Top 100 E-Commerce Players 2011" ranking, compiled by the Hamburg-based market research firm yStats.com, presents the 100 most successful players on the Turkish E-Commerce market. Turkey's top 100 E-Commerce players have been ranked based on local unique visitor numbers from September 2011.

The yStats.com ranking highlights important details about competitors in the Turkish E-Commerce sector, shareholders, business models, product ranges, local and global unique visitor numbers and strategic news. For a few selected competitors, E-Commerce revenue figures are also provided.

Consumer electronics are highly demanded in Turkish E-Commerce

As shown in the "Turkey Top 100 E-Commerce Players 2011" ranking by yStats.com, consumer electronics are very popular in the Turkish E-Commerce market - more than one quarter of all analyzed competitors distributes products in this category. Fashion, another popular category for online purchases, is distributed by almost one fifth of all online shops. Other popular online shopping categories are media, jewellery and auto parts. Overall, the market is dominated by marketplaces, multi-category retailers and private shopping sites.

Sahibinden.com and Gitti Gidiyor - successful Turkish E-Commerce players

The most successful Turkish E-Commerce player is the marketplace Sahibinden.com based on yStats.com's "Turkey Top 100 E-Commerce Players 2011" ranking. Auction platform Gitti Gidiyor, 93% of whose shares have been owned by eBay since April 2011, is ranked second. Multi-category retailer Hepsiburada.com, which also offers Vodafone products, is ranked third. It has distributed more than 330,000 products in more than 36 categories since the beginning of 2011. Araba.com sells auto parts and is ranked fourth. Between 2004 and 2010, 70,000 ads were placed on Araba.com, which counts approximately 2,000 registered retailers. The top 10 of the yStats.com ranking are completed by private shopping site Trendyol, platform Arabam.com, private shopping site Markafoni, price comparison website Ucuzu, private shopping site Limango and market place Elookat Seri Ilanlar.
yStats.com GmbH & Co. KG
yStats.com has been committed to research up-to-date, objective and demand-based data on markets and competitors for top managers from various industries since 2005. Headquartered in Hamburg, Germany, the firm has a strong international focus and is specialized in secondary market research. In addition to offering reports on markets and competitors, yStats.com also carries out client-specific research. Clients include leading global enterprises from various industries including B2C E-Commerce, electronic payment systems, mail order and direct marketing, logistics, as well as banking and consulting.
Press releases you might also be interested in
Weitere Informationen zum Thema "E-commerce":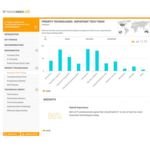 IT-Experten: Cloud-Computing hat höchste Priorität
Ei­ne So­lar­Winds-Um­fra­ge un­ter deut­schen IT-Ex­per­ten er­gab: Wer die Vor­tei­le von künst­li­cher In­tel­li­genz und ma­schi­nel­lem Ler­nen nut­zen möch­te, muss in Cloud-Com­pu­ting in­ves­tie­ren. Al­ler­dings ge­be es ei­ne Schie­fla­ge zwi­schen den Prio­ri­tä­ten der Ex­per­ten und de­nen ih­rer Vor­ge­setz­ten.
Weiterlesen