B2C E-Commerce Market Reports by yStats.com available at reduced Prices

Hamburg

, (PresseBox) -
yStats.com, Hamburg-based secondary market research specialist, offers considerable discounts on previously published reports. B2C E-Commerce market reports published in the second half of 2012 are now available with a 30 percent discount on the original price.

The comprehensively researched yStats.com market reports show global, regional and local trends. These reports still provide valuable information, given that all data was carefully researched with a long-term validity in mind and some of the market reports also include forecasts. Detailed product brochures and further information on all market reports are available on the homepage http://ystats.com/....

Reduced market reports of the second half of 2012 include:

Global Online Payment Methods 2012

The "Global Online Payment Methods 2012" report by yStats.com analyzes recent developments in E-Commerce payment methods, first on a global scale and then separately for more than 50 regions and countries worldwide. Additionally, the report features the most important trends and the latest news for more than 40 payment companies in these markets. The average global online shopper uses only a small number of payment methods, with a preference for familiar systems. Not only the online payment segment but also mobile payment methods show a steady growth in 2012. The transaction volume for mobile payments is forecasted to increase by approximately 75% worldwide compared to 2011. In response to this trend, PayPal has launched its PayPal Mobile service. The company expects further growth for 2012 and plans to enter the markets of Russia, China, India and the Middle East.

Global Mobile Payment Methods 2012

In its "Global Mobile Payment Methods 2012" report, yStats.com is presenting facts and figures on global mobile payment methods. The report covers markets and top players in 26 nations, including the USA, Great Britain, Germany, France, China, and Japan, as well as some smaller countries. In addition to country-specific information, the report features global and regional data. According to estimates, the volume of mobile payments will globally increase in 2012 by approximately 70 percent. An example of this growing market is China. In the six months leading up to the first quarter of 2012, more than 60 percent of all Chinese consumers made at least one mobile payment. India and South Africa are following China's example.

Global Mobile and M-Commerce Report 2012

In its "Global Mobile and M-Commerce Report 2012", yStats.com presents facts and figures on the use of mobile phones and other portable devices with Internet access, along with information on M-Commerce and mobile payment methods. The report includes trends, revenue figures and many other details about 46 countries in all regions of the world. In addition to country-specific information, the report also provides data on a global and regional level. In addition to its "Global Mobile and M-Commerce Report 2012", yStats.com is also offering a "Europe Mobile and M-Commerce Report 2012". The number of people worldwide who purchase via mobile reached approximately 400 million in 2012. About 40 percent of all retailers offered their customers the option to purchase goods via mobile devices.

Global E-Commerce Delivery Report 2012

In its "Global E-Commerce Delivery Report 2012", which provides global data about the delivery of products ordered online, yStats.com analyzes delivery options for online orders across various countries. It highlights what is important to customers and demonstrates that a good infrastructure is necessary for prospering B2C E-Commerce. While in South America, infrastructural problems make it difficult to deliver products ordered online, delivery companies in North America continue to expand their services. In Europe, people also tend to order products beyond national borders and in Asia and Africa, B2C E-Commerce continues to grow, as does the need for the delivery of orders. These and other facts are presented in yStats.com's latest report.

TOP 2000 Global Online Shops 2012

The "Top 2000 Global Online Shops 2012" ranking by yStats.com ranks the top online shops for different regions and countries of the world. For the first time, data for all regions worldwide is compiled in one unique publication. Besides the global ranking, yStats.com also offers "Top 1200 Online Shops in Europe 2012" and "Top 350 Online Shops in Asia-Pacific 2012", including only information about the relevant regions. The report includes a global ranking and separate rankings of online shops for almost 30 countries and regions of the world. According to the report, Amazon is among the top players worldwide in this area and the German OTTO Group is playing an increasingly important role. Another significant key finding is the high position of product manufacturers such as Apple and IKEA.

Latin America B2C E-Commerce Report 2012

In its "Latin America B2C E-Commerce Report 2012" yStats.com presents the latest trends in Latin American B2C E-Commerce. Besides revenue figures, the share of B2C E-Commerce on total retail sales and successful product categories, the report also covers Internet user and online shopper statistics as well as leading players. Aside from the 10 main markets in Latin America, it also provides information for the entire region. In 2011, more than half of all B2C E-Commerce revenues in Latin America was generated by Brazil, followed by Mexico, the Caribbean, and Argentina. Brazil is also leading in terms of Internet penetration in Latin America. However, when it comes to online shopper penetration, Argentina takes the lead in the region. In Latin America, apparel and accessories and computer electronics are the most frequently ordered products online.

Europe B2C E-Commerce Report 2012

In its "Europe B2C E-Commerce Report 2012" yStats.com provides a comprehensive analysis of B2C E-Commerce trends in Europe. The report covers a total of 35 countries throughout Europe. It also includes information on the European region as a whole. Aside from trends and revenue figures, it lists product categories and leading players in the online retail markets of the included countries. Between 2011 and 2016, an annual increase of B2C E-Commerce revenues of more than 10 percent is expected for the entire European region. Cross-border B2C E-Commerce is also thriving. In 2011, a low double-digit percentage of all online shoppers in Europe bought products or services online from outside of their own country. Sweden and Norway had the largest Internet penetration rate in 2011, while Norway also had the highest online shopper rate, followed by Great Britain and Sweden.

Western Europe B2C E-Commerce Report 2012

In its "Western Europe B2C E-Commerce Report 2012" yStats.com has compiled interesting facts and figures about the B2C E-Commerce market in Western Europe. Aside from trends and revenue figures, the report covers market shares and successful product categories, as well as Internet and online shopper figures and leading players in the B2C E-Commerce markets in the UK, France, Spain, Italy, the Netherlands, and Belgium. Furthermore, the report includes information about the entire Western European region as well as the countries Portugal, Ireland and Luxembourg. For Great Britain, France, Spain, and Italy, separate reports are also available. The Western European countries UK, Ireland and France have the highest retail website penetration, clearly surpassing the European average of approximately 80%. With regard to M-Commerce compared to all B2C E-Commerce activities, the Western European countries UK and Spain are two of the top three Western European countries.

Central Europe B2C E-Commerce Report 2012

In its "Central Europe B2C E-Commerce Report 2012" yStats.com analyzes current trends, sales, shares, as well as leading product categories, Internet users, online shoppers, and leading competitors in the B2C E-Commerce markets in Germany, Switzerland, and Austria. While B2C E-Commerce sales in Germany have grown at an increasing speed in the years up to 2012, the pace of growth in both Austria and Switzerland has slowed. The share of online shoppers on the population was also higher in Germany in 2011, than in its two neighboring countries.

Eastern Europe B2C E-Commerce Report 2012

In its report "Eastern Europe B2C E-Commerce Report 2012" yStats.com presents information about trends, sales, shares of B2C E-Commerce on total retail sales and popular product categories as well as Internet users, online shoppers, and important competitors on the Eastern European B2C E-Commerce market. The main markets Russia, Poland, Czech Republic, Ukraine, Hungary, and Slovakia are analyzed more closely, information about Albania, Bosnia and Herzegovina, Bulgaria, Croatia, Estonia, Greece, Latvia, Lithuania, Macedonia, Romania, and Slovenia is also included. An increase in both Internet users and online shoppers can be observed in the whole Eastern European region, but the individual markets display strong differences. While Russia is leading both in terms of online sales and with regard to the total number of Internet users, Slovakia exhibits an Internet penetration, which is above the total European average.

Russia B2C E-Commerce Report 2012

The "Russia B2C E-Commerce Report 2012" provides information on B2C E-Commerce in Russia. Aside from trends and revenue figures, the report also covers the share of B2C E-Commerce on total retail sales in Russia, as well as product categories, Internet users, online shoppers and leading B2C E-Commerce players in Russia. From 2011 to 2012, B2C E-Commerce in Russia grew by almost 30 percent and mobile Internet use still continues to increase more and more. However mobile shopping has not been very popular in 2012. In contrast, online group shopping continues to gather momentum in Russia.

Turkey B2C E-Commerce Report 2012

yStats.com gives a detailed overview of B2C E-Commerce in Turkey in its latest "Turkey B2C E-Commerce Report 2012." The analysis includes figures about internet use, online purchases and revenues along with competitors, products offered and trends. In 2011, more than 40% of the Turkish population used the internet. When it comes to broadband access per 100 inhabitants, Turkey still lags far behind Germany and the USA. However, almost a quarter of Internet users in Turkey accessed the mobile Internet in the first quarter of 2012. As a result, there is still growth potential in B2C E-Commerce in Turkey.

Press Contact:
yStats.com GmbH & Co. KG
Behringstrasse 28a, D-22765 Hamburg
Phone: +49 (0)40 - 39 90 68 50
Fax: +49 (0)40 - 39 90 68 51
E-Mail: press@ystats.com
Internet: www.ystats.com

Twitter: www.twitter.com/ystats
LinkedIn: www.linkedin.com/...
Facebook: www.facebook.com/ystats
Website Promotion
yStats.com GmbH & Co. KG
yStats.com has been committed to researching up-to-date, objective and demand-based data on markets and competitors for top managers from various industries since 2005. Headquartered in Hamburg, Germany, the firm has a strong international focus and is specialized in secondary market research. In addition to offering reports on markets and competitors, yStats.com also carries out client-specific research. Clients include leading global enterprises from various industries including B2C E-Commerce, electronic payment systems, mail order and direct marketing, logistics, as well as banking and consulting.
Press releases you might also be interested in
Weitere Informationen zum Thema "E-Commerce":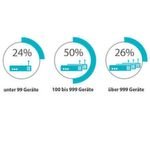 Planloses Netzwerk – Fehlersuche ohne Übersicht
IT-Mit­ar­bei­ter könn­ten bei der Su­che nach Feh­lern im Un­ter­neh­mens­netz­werk ei­ne Kar­te mit al­len mög­li­chen Feh­ler­qu­el­len gut ge­brau­chen. Doch nur 38 ­Pro­zent kom­men in ei­nen sol­chen Ge­nuss. Dies er­gab ei­ne Stu­die, die der Soft­ware­her­s­tel­ler Net­Brain bei Tech­con­sult in Auf­trag ge­ge­ben hat.
Weiterlesen