Press release BoxID: 600364 (W&H Dentalwerk Bürmoos GmbH)
W&H Dentalwerk Bürmoos GmbH
Ignaz-Glaser-Str. 53
5111 Bürmoos,
at
http://www.wh.com
Contact person
Mag.Komm. Agnes Hufnagl
+43 (6274) 6236-285

20 years of ISO certification
W&H Dentalwerk Bürmoos receives award from qualityaustria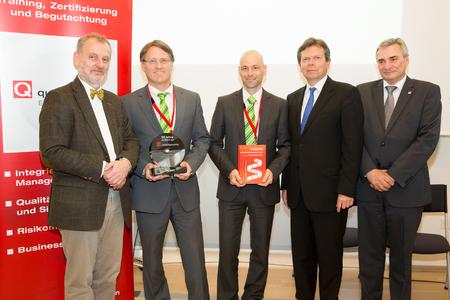 (PresseBox) (
Bürmoos

,
)
In order to face up to the challenges of increasingly dynamic and global markets, W&H has already been setting great store by a comprehensive quality management system for many years. The consistent integration of the ISO 9001 principles not only allows the company to reinforce its customer, process and employee orientations, but also to provide high-quality products and services in the global dental market. W&H was recently the only company in Salzburg to be presented the qualityaustria award for 20 years of ISO 9001 certification. "The consistent orientation of our processes to the customer and the continued training of our employees are important key issues for the implementation of the ISO 9001 quality management standard. In addition, the internationally recognized standard helps us to always improve our management system and to adjust it to the globally ever-increasing requirements of medical engineering", said Ing. Herbert Traschwandtner, Member of the W&H Executive Board.
The publisher indicated in each case is solely responsible for the press releases above, the event or job offer displayed, and the image and sound material used (see company info when clicking on image/message title or company info right column). As a rule, the publisher is also the author of the press releases and the attached image, sound and information material.
The use of information published here for personal information and editorial processing is generally free of charge. Please clarify any copyright issues with the stated publisher before further use. In the event of publication, please send a specimen copy to
service@pressebox.de
.