Press release BoxID: 667959 (Weidmüller)
Weidmüller
Klingenbergstraße 16
32758 Detmold,
de
http://www.weidmueller.de
Contact person
Horst Kalla
+49 (5231) 14-291190

Weidmüller second-generation voltage testers with extra functions: Simple and standard-compliant voltage testing with two-pole testers
Built-in visual and/or buzzer function for continuity and voltage testing / Six variants offering a wide variety of functions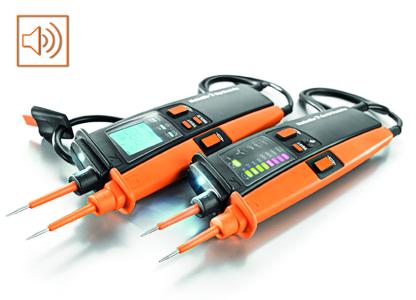 (PresseBox) (
Detmold

,
)
Weidmüller has equipped its second-generation two-pole voltage testers with extra functions and made even more improvements to its product range. Weidmüller is offering users a wide range of voltage testers, each of which simplifies work with useful features and guarantees standard-compliant testing. The Combi-Check, Combi-Check Pro, Digi-Check and Digi-Check Pro two-pole voltage testers have both a visual display and a new acoustic function (buzzer) for continuity and voltage testing; the Multi-Check and Master-Check variants are each equipped with a visual display. The voltage testers (protection class IP65) boast extensive functions, such as checking that no voltage is present, taking standard-compliant voltage measurements over a wide range, testing rotating fields and connecting loads. Weidmüller also attaches a great deal of importance to simple operation and good readability. A light sensor activates the backlit LC display, helping to lengthen the service life of the battery. The battery compartment has been improved too. The non-detachable battery compartment opener is incorporated in the test probe cover. The two-pole voltage testers are certified in accordance with current standards (DIN VDE 0682-401:2011, DIN EN 61243-3:2010) and provide all-purpose usage thanks to their wide measurement range from 0.3 V to 690 V. DC and AC voltages are detected automatically.
The publisher indicated in each case is solely responsible for the press releases above, the event or job offer displayed, and the image and sound material used (see company info when clicking on image/message title or company info right column). As a rule, the publisher is also the author of the press releases and the attached image, sound and information material.
The use of information published here for personal information and editorial processing is generally free of charge. Please clarify any copyright issues with the stated publisher before further use. In the event of publication, please send a specimen copy to
service@pressebox.de
.