Press release BoxID: 210910 (Weidmüller)
Weidmüller
Klingenbergstraße 16
32758 Detmold,
de
http://www.weidmueller.de
Contact person
Horst Kalla
+49 (5231) 14-1190

Weidmüller on the trade fair SPS/IPC/DRIVES 2008: Hall 9, Booth 430
Weidmüller's ACT20X - new signal converters for hazardous areas: Universal family of products covers the entire field of hazardous area applications with six different basic functions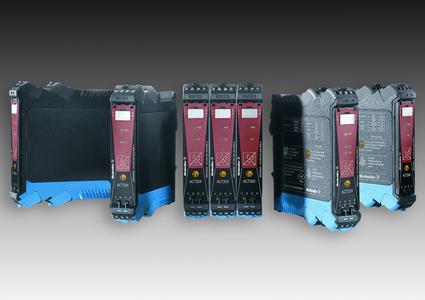 (PresseBox) (
Detmold

,
)
With the introduction of its ACT20X modules Weidmüller is offering a completely new family of signal converters for hazardous area applications. With just 11 mm per channel these compactly designed modules require very little space in the electrical cabinet. All ACT20X converters can be configured via a PC utilizing the software 'WI-Manager'. This software is based on vendor-neutral FDT/DTM technology. The innovative modules are designed to be installed in safe or hazardous areas of Zone 2. The ACT20X family includes digital and analogue intrinsically safe converters that both isolate and convert signals from as well as into hazardous areas. The innovative signal converters process 2-wire HART, NAMUR, RTD, thermocouple or DC signals as well as digital signals with electrical connection to hazardous area Zone 0. All modules have 3-way separation and are optionally available with dual channel functionality. With high levels of insulation resistance, accuracy and thermal stability ACT20X modules provide a pure, disturbance free signal at all times. A relay-based error monitoring facility simplifies servicing. ACT20X modules can be utilized in temperatures from -20 °C to +60 °C without restrictions. They have all relevant international approvals such as ATEX, ICEEX, GOST, FM - in other words, the modules are predestined for use in applications all over the world.
Für die oben stehenden Pressemitteilungen, das angezeigte Event bzw. das Stellenangebot sowie für das angezeigte Bild- und Tonmaterial ist allein der jeweils angegebene Herausgeber (siehe Firmeninfo bei Klick auf Bild/Meldungstitel oder Firmeninfo rechte Spalte) verantwortlich. Dieser ist in der Regel auch Urheber der Pressetexte sowie der angehängten Bild-, Ton- und Informationsmaterialien.
Die Nutzung von hier veröffentlichten Informationen zur Eigeninformation und redaktionellen Weiterverarbeitung ist in der Regel kostenfrei. Bitte klären Sie vor einer Weiterverwendung urheberrechtliche Fragen mit dem angegebenen Herausgeber. Bei Veröffentlichung senden Sie bitte ein Belegexemplar an
service@pressebox.de
.