Press release BoxID: 425894 (ViscoTec Pumpen- u. Dosiertechnik GmbH)
ViscoTec Pumpen- u. Dosiertechnik GmbH
Amperstraße 13
84513 Töging a. Inn,
de
http://www.viscotec.de
Contact person
Thomas Diringer
+49 (8631) 393-441

Exact mixtures …
… of very small volumes with the new 2-K-precision-volume-dispenser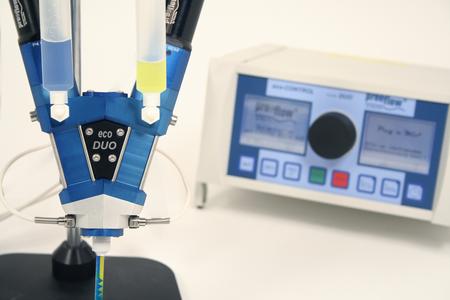 (PresseBox) (
Töging a. Inn

,
)
Handling and Processing - The observance of exact mixing ratios of 2K-materials and their application could have a great impact to specific processes. Even small differences can have a negative effect on the desired states. The more and more complex adhesives and sealants could be damaged by the application because of too strong shearing of the medium for example. Due to the high market acceptance of the 1-K-precision-volume-dispenser the ViscoTec pump and dosing technology GmbH has developed the new eco-DUO 450, which will cover the 2-K dispensing sector. Like all dosing systems of the manufacturer the new precision-volume-mixing-head is also working with the proven Endless-Piston-Principle®. With the new 2-K-precison-volume-dispenser there will be absolutely new possibilities in the application of very small amounts. Regarding to the design and the dosing quantity it is the smallest 2-K-precision-volume-dispenser of its kind on the market. As well as the 1-K-dosing-systems the eco-DUO 450 is a rotating and perfectly pressure-tight displacement system. It is controlled by the also newly developed eco-CONTROL DUO. The safe conveyance of the medium is microprocessor controlled with a rotor movement. Through the quick and easy-going plug'n'mix® application of these accurate components test dosages will be almost unnecessary. Therefore this system is very easy to implement in processes in a short time and without great efforts. This system is able to dispense dosages from 0,01 ml as a dote or bead, independently from temperature, time, pressure and viscosity. The continuous application of bead is up to maximal 12 ml/min. Mixing ratios from 1:1 up to 5:1 are easy to set over an intuitive user guidance using a graphical user interface. An integrated pressure control ensures the optimum process safety and a high productivity.
The publisher indicated in each case is solely responsible for the press releases above, the event or job offer displayed, and the image and sound material used (see company info when clicking on image/message title or company info right column). As a rule, the publisher is also the author of the press releases and the attached image, sound and information material.
The use of information published here for personal information and editorial processing is generally free of charge. Please clarify any copyright issues with the stated publisher before further use. In the event of publication, please send a specimen copy to
service@pressebox.de
.