Press release BoxID: 102384 (VBM Medizintechnik GmbH)
VBM Medizintechnik GmbH
Einsteinstr. 1
72172 Sulz am Neckar,
de
http://www.vbm-medical.de
Contact person
Jörn Kelch
+49 (7454) 95960

Transparent Pressure Infusion Cuffs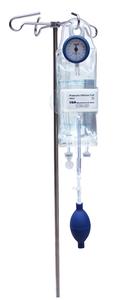 (PresseBox) (
Sulz am Neckar

,
)
The new VBM Pressure Infusion Cuffs are transparent (see-through) and therefore allow a clear view on the fluid bag and fluid level. The cuffs are made of durable, latex free PU-material and are easy to clean and reusable. Due to the wrap-around design the fluid bag can be replaced quickly and a consistent pressure is exerted on the complete cuff. The newly developed shock resistant precision manometer allows exact pressure control. The manometer is overpressure proved, shock resistant and longer lasting than conventional manometers. VBM also offers an inexpensive alternative with a pressure indicator instead of the manometer. The new cuff is available in two sizes, for 500ml and 1000ml fluid bags.
Für die oben stehenden Pressemitteilungen, das angezeigte Event bzw. das Stellenangebot sowie für das angezeigte Bild- und Tonmaterial ist allein der jeweils angegebene Herausgeber (siehe Firmeninfo bei Klick auf Bild/Meldungstitel oder Firmeninfo rechte Spalte) verantwortlich. Dieser ist in der Regel auch Urheber der Pressetexte sowie der angehängten Bild-, Ton- und Informationsmaterialien.
Die Nutzung von hier veröffentlichten Informationen zur Eigeninformation und redaktionellen Weiterverarbeitung ist in der Regel kostenfrei. Bitte klären Sie vor einer Weiterverwendung urheberrechtliche Fragen mit dem angegebenen Herausgeber. Bei Veröffentlichung senden Sie bitte ein Belegexemplar an
service@pressebox.de
.