TQ launches real-time full HD video transmission system Module No.1

Seefeld

, (PresseBox) -
The unicast and multicast versions of the new Module No.1 are now available: TQ-Group launched the Europe-wide sale of its proprietary solution Module No.1, produced in-house, for wireless, radio-based, real-time full HD video transmission in collaboration with selected retail partners. Demand and pre-orders at TQ were higher than the stock of inventory even before the official sales launch.
Module No.1 is a wireless HD-SDI transmission system which transmits uncompressed full HD video data up to 1080p60 and 4:2:2 scanning free of interference and without frame delay to up to four receivers simultaneously in the 5GHz frequency band – even running in parallel with other systems. The Module No.1 transmitter has a loop-through 3G-SDI input/output and is able to simultaneously transmit video data over a distance of up to 100 meters. Module No.1 is a high-performance light-weight without a fan and with an optimally integrated multiple-antenna system which makes the best use of every reflection, thus offering a stable quality of transmission even without line-of-sight. The receiver has two 3G-SDI outputs.
One essential development objective for Module No.1 was to compactly integrate the antennas into the casing without severely restricting the operating range. This has given rise to a robust system protected from environmental influences which operates in a fail-safe manner even in parallel operation of more than six transmission systems while still being easy to operate.
Bernd Wein, TQ Product Manager of Module No.1: "Even the test version of Module No.1 was used in numerous productions, live broadcasts and sports events and proved itself in the process: Our customers are enthusiastic. Our pre-produced stock of inventory was tied to pre-orders even before the official sales launch."
The developers have used the feedback TQ has received from the test runs, in particular by the cooperation partners MBF Filmtechnik, a better Truth, ARRI Rental and NETchange, to produce and improve a stable and convenient, yet robust, transmission system. "Since we have developed the product completely on our own, and since we are the manufacturer, we are not only able to provide appropriate service but also to incorporate customer requirements into the considerations on updates or on the extension of the product line. In this regard, we benefit from our many years of experience in the sector of radio technology as well as in the development and production of electronic devices, among other things", adds Bernd Wein.
Module No.1 is available from authorized specialist retailers listed under
www.modul-no-1.com.
Website Promotion
TQ-Group
As an electronics service provider (E²MS supplier and CEM) TQ offers the complete range of services from development, through production and service right up to product life cycle management. The services cover assemblies, equipment and systems including hardware, software and mechanics. Customers can obtain all services from TQ on a modular basis as individual services and also as a complete package according to their individual requirements. Standard products such as finished microcontroller modules (minimodules) and drive solutions complete the range of services.
Through the combination of electronics services and finished system components, TQ offers customer-specific products as ODM products and thereby addresses customers who would like to receive finished products and at the same time benefit from the advantages of a customer-specific solution. ODM products are provided on time and economically using a comprehensive solution kit. The kit includes finished electronic, mechanical and software components including certification and licenses.
The TQ Group employs more than 1,300 colleagues at their sites in Seefeld, Weßling, Murnau, Peißenberg, Peiting, Durach/Allgäu, Wetter/Ruhr, Chemnitz, Leipzig, Fontaines (Switzerland) and Shanghai (China).

Press releases you might also be interested in
Weitere Informationen zum Thema "Hardware":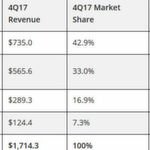 Umsatz konvergenter Systeme legt weltweit zu
Nach An­ga­ben der In­ter­na­tio­nal Da­ta Cor­po­ra­ti­on (IDC) ver­mel­de­te der "World­wi­de Quar­t­er­ly Con­ver­ged Sys­tems Tra­cker" für das vier­te Quar­tal 2017 ei­nen welt­wei­ten An­s­tieg der Um­sät­ze im Be­reich des kon­ver­gen­ten System­mark­tes um 9,1 Pro­zent. Hy­per­kon­ver­gen­te Sys­te­me out­per­for­men, an­de­re Teil­seg­men­te er­leb­ten Rück­gän­ge.
Weiterlesen