Press release BoxID: 387520 (Teraport GmbH)
Teraport GmbH
Kellerstr. 29
81667 München,
de
http://www.teraport.de
Contact person
Raphael Heilig
+49 (89) 651086-700

Teraport presents DMU.Doc3D at tcworld 2010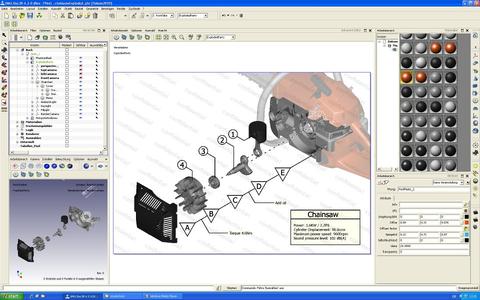 (PresseBox) (
Munich

,
)
From Nov. 3rd until Nov. 5th 2010, as in recent years, all the experts in the field of technical documentation met at tekom's tcworld conference 2010. As established provider of software solutions for DMU-simulations on virtual prototypes, the munich based technology corporation presented its newest product DMU.Doc3D. This software allows the efficient creation of technical illustrations from 3D-CAD Data. These illustrations can be used for spare part catalogues, assenbly intructions and user manuals. In addition to base functionality, such as processing of CAD data, addition of materials and lighting and use of 2D-elements like hotspots and inscriptions, usability is one of the main focuses of DMU.Doc3D. "By offering extensive tools for manipulation of 3D data, the availability of various viewports and higlights like the flexibel customization of the layouts, DMU.Doc3D helps guarantee an efficient working process," states Dejan Pantelic, business development manager at Teraport. A lecture with the title "DMU.Doc3D enables the use of the digital product in the fields of sales and service" by Teraport's Raphael Heilig informed the interested visitors about the concept of easy to integrate interfaces. The goal of these interfaces is to enable a deep integration of the solution into customers product development systems. While it is possible to introduce DMU.Doc3D as an easy standard, that way it can develop into an ideal customer specific solution, avoiding any time losses at process interfaces.
Für die oben stehenden Pressemitteilungen, das angezeigte Event bzw. das Stellenangebot sowie für das angezeigte Bild- und Tonmaterial ist allein der jeweils angegebene Herausgeber (siehe Firmeninfo bei Klick auf Bild/Meldungstitel oder Firmeninfo rechte Spalte) verantwortlich. Dieser ist in der Regel auch Urheber der Pressetexte sowie der angehängten Bild-, Ton- und Informationsmaterialien.
Die Nutzung von hier veröffentlichten Informationen zur Eigeninformation und redaktionellen Weiterverarbeitung ist in der Regel kostenfrei. Bitte klären Sie vor einer Weiterverwendung urheberrechtliche Fragen mit dem angegebenen Herausgeber. Bei Veröffentlichung senden Sie bitte ein Belegexemplar an
service@pressebox.de
.