Press release BoxID: 1042869 (Telemeter Europe)
Telemeter Europe
Joseph-Gänsler-Straße 10
86609 Donauwörth,
de
http://www.telemeter.info/
Contact person
Edna Seiler
004990670693-60

Flexible and compact measurement chambers – state-of-the-art measurement solution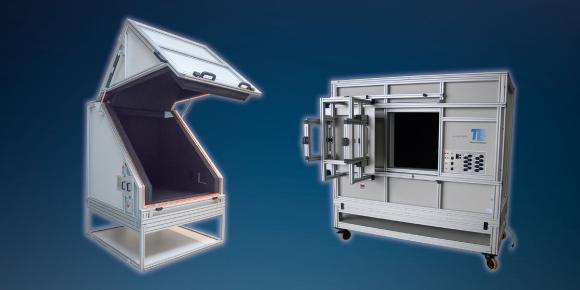 (PresseBox) (
Donauwörth

,
)
Mobile measurement chambers are used by many companies to support the product development of electronic components and systems. In that environment, they are used for example for electromagnetic immunity and emission testing in EMC pre-compliance measurements. Caused by increasing safety requirements for critical components and systems for example in the medical industry, a 100% end-of-line test procedure is unavoidable. Telemeter Electronic designs and manufactures modular chamber solutions to address these demanding requirements. Using a very compact design the measurement chambers can be used quite flexible and location – independent in product development, manufacturing, lab or quality control. All measurement chambers are fully custom designed to meet a variety of applications and requirements. Integrated antennas, positioners as well as DUT fixtures and communication interfaces ensure a convenient and trouble-free measuring process. It is always Telemeter`s purpose to provide customers with fully integrated measurement solutions. Individual solutions for control, measurement concept as well as operating concept guarantee shortest development time. Telemeter Electronic is a full-service provider offering additional components like amplifiers, antennas, switch matrices and measuring instruments from a single source.
The publisher indicated in each case is solely responsible for the press releases above, the event or job offer displayed, and the image and sound material used (see company info when clicking on image/message title or company info right column). As a rule, the publisher is also the author of the press releases and the attached image, sound and information material.
The use of information published here for personal information and editorial processing is generally free of charge. Please clarify any copyright issues with the stated publisher before further use. In the event of publication, please send a specimen copy to
service@pressebox.de
.