Press release BoxID: 1064137 (TELEMETER ELECTRONIC GmbH)
TELEMETER ELECTRONIC GmbH
Joseph-Gänsler-Straße 10
86609 Donauwörth,
de
http://www.telemeter.info/
Contact person
Edna Seiler
+49 (906) 70693-60

Rigol TX1000 RF Demo Kit in Kombination mit RSA3015N Spektrum-Analysator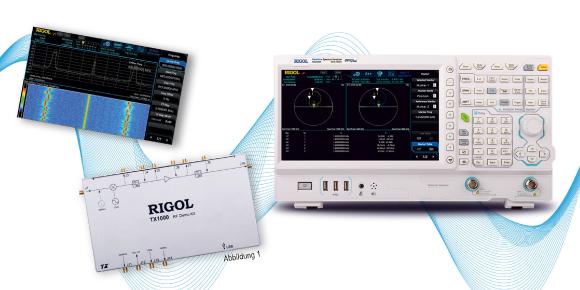 (PresseBox) (
Donauwörth

,
)
Die Übertragung von Informationen über Funk und dessen Umsetzung ist eine interessante und zugleich komplexe Technik. Um zu verstehen, wie dies funktioniert, bietet der Partner von Telemeter Electronic, RIGOL Technologies, ein perfektes Werkzeug an. Der Spektrum-Analysator der DSA800-Klasse oder der RSA3015N in Kombination mit einem TX1000 Demo-Board ist speziell für den Ausbildungsbereich, aber auch für F&E-Messungen spezifiziert. Das Gesamtverständnis von HF-Empfängern und -Sendern kann so auf einfache Art und Weise erlernt und nachvollzogen werden. Dieses Demo-Board (Abbildung 1) kann einen HF-Träger (500 MHz oder 1 GHz) mit einem Basisbandsignal (bis zu 50 MHz, maximale Bandbreite: +/- 10 MHz) modulieren. Mit dem Spektrum-Analysator lässt sich das TX1000 Demo-Board (über Tracking-Generator) stimulieren und über den HF-Eingang analysieren. Alternativ kann auch ein externer HF-Generator mit IQ-Modulation verwendet werden (z.B. RIGOL DSG821A), um das Gerät mit einem modulierten Basisbandsignal zu testen. Das TX1000 Demo-Board enthält verschiedene Komponenten wie einem GHz Lokaloszillator, zehn MHz Referenz, Mischer, einem Bandpassfilter nach dem Mixer, Verstärker und zwei Bandpassfilter nach dem Verstärker. Der Spektrum-Analysator RSA3015N überzeugt dabei mit einem breiten Frequenzbereich von 9 kHz bis 1,5 GHz sowie mit seinem integrierten Vektornetzwerkanalysator-Modus. Mit diesem Modus können S11-, S21- oder Abstands-Fehler-Messungen durchgeführt werden, da neben der Amplitudeninformation auch die Phaseninformation zur Verfügung steht.
The publisher indicated in each case is solely responsible for the press releases above, the event or job offer displayed, and the image and sound material used (see company info when clicking on image/message title or company info right column). As a rule, the publisher is also the author of the press releases and the attached image, sound and information material.
The use of information published here for personal information and editorial processing is generally free of charge. Please clarify any copyright issues with the stated publisher before further use. In the event of publication, please send a specimen copy to
service@pressebox.de
.