Press release BoxID: 1068312 (TELEMETER ELECTRONIC GmbH)
TELEMETER ELECTRONIC GmbH
Joseph-Gänsler-Straße 10
86609 Donauwörth,
de
http://www.telemeter.info/
Contact person
Edna Seiler
+49 (906) 70693-60

Jetzt NEU für Ihr SRM-3006: 5G NR – Neue Software für 5G-Code-selektive Messung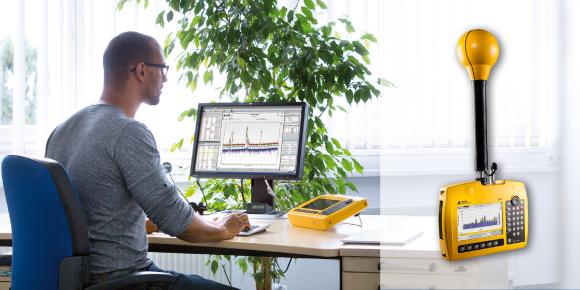 (PresseBox) (
Donauwörth

,
)
Das SRM-3006 von Narda, das bei Telemeter Electronic erhältlich ist, ist bereits seit vielen Jahren der Industriestandard für frequenz- oder codeselektive EMF-Messungen. Viele zufriedene Telemeter-Kunden vertrauen hierbei auf ein einfach zu bedienendes Testsystem, welches durch verschiedene Messantennen zur Detektion von Feldern und Quellen im Frequenzbereich von 9 kHz bis 6 GHz eingesetzt werden kann. Mit der Option 5G NR sind nun auch codeselektive EMF-Messungen von 5G NR (Mobilfunktechnik der 5. Generation) im Frequenzbereich 1 (FR1) möglich. Die 5G NR-Option ist unabhängig von der Auslastung der Mobilfunkzelle und kann somit jederzeit und ohne Vorort-Mitwirkung des Betreibers stattfinden. Dank einer intelligenten Auswertung aller Signale können sowohl einzelne Segmentantennen aber auch mehrere Mobilfunkstationen unterschieden und bewertet werden. Das Messverfahren basiert auf der Bestimmung der abgestrahlten Feldstärke der sekundären Signalisierungssignale (SSS) im Broadcast-Kanal (PBCH) des Downlinks. Vorteil der codeselektiven Messung ist die Unabhängigkeit von der Zellenlast, da die Messung jederzeit ohne Beteiligung des Anlagenbetreibers vor Ort durchführbar ist. Zudem funktioniert es auch mit Beamforming-Antennen, die häufiger für 5G-Systeme verwendet werden. Ein weiterer Vorteil ist, dass die Messung von Uplink-Signalen des Mobilfunksystems nicht beeinflusst wird, was besonders wichtig beim Einsatz von TDD-Systemen, der wichtigsten Technologie für 5G NR, ist. Weitere Informationen zur Software-Option 5G NR – auch für ein bereits vorhandenes Gerät – erhält man von den Produktspezialisten der Telemeter Electronic GmbH!
The publisher indicated in each case is solely responsible for the press releases above, the event or job offer displayed, and the image and sound material used (see company info when clicking on image/message title or company info right column). As a rule, the publisher is also the author of the press releases and the attached image, sound and information material.
The use of information published here for personal information and editorial processing is generally free of charge. Please clarify any copyright issues with the stated publisher before further use. In the event of publication, please send a specimen copy to
service@pressebox.de
.