Press release BoxID: 1063240 (TELEMETER ELECTRONIC GmbH)
TELEMETER ELECTRONIC GmbH
Joseph-Gänsler-Straße 10
86609 Donauwörth,
de
/redirect/ext?tu=http%3A%2F%2Fwww.telemeter.info%2F&rp=Gf5lwKhvFYNGcXrXGiD-MKo3_uo1U5S8xd0iL7R-Qz0
Contact person
Edna Seiler
+49 (906) 70693-60

Hochwertige Pyramidenabsorber – Bewährte Absorber im neuen Gewand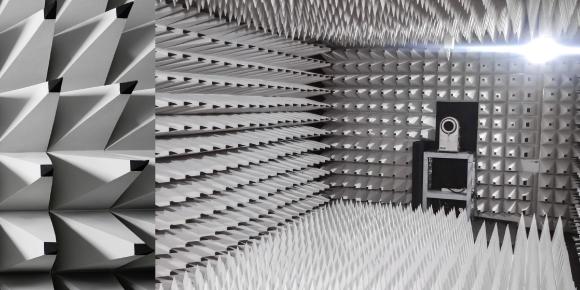 (PresseBox) (
Donauwörth

,
)
Mit den modernen SEA-PM Pyramidenabsorbern wird die bewährte Absorber-Serie von Telemeter Electronic neu aufgelegt. Sie erscheint nun als Standardausführung in einem neutralen hellen grau. Durch das neue Liv-coating werden weitreichende Verbesserungen gegenüber dem bisherigen plastic paint erreicht. Zum Beispiel verhindert es das Aneinanderkleben der Pyramidenspitzen und stellt gleichzeitig keine Einschränkungen hinsichtlich Verpackung oder Lagerung dar. Des Weiteren ist es Flammhemmend nach NRL 8093 (Tests 1, 2, 3), DIN 4102-B2, ISO 11925-2 Euroclass E, UL-94/HBF. Auch eine Staubfreie Arbeitsumgebung durch zertifizierte Reinraumtauglichkeit nach ISO class 4 according laut ISO 14644-1 wird gewährleistet. Darüber hinaus halten die neuen SEA-PM Absorber dank ihres "Formgedächtnisses", auch Verformungen, wie z.B. Abknicken der Pyramidenspitze, stand. Dadurch eignen sie sich besonders gut für Bereiche mit erhöhtem Aufkommen wie in Messkammern. Die Performance der Absorber bleibt uneingeschränkt. Erhältlich in Längen zwischen 28 mm bis 1150 mm sind diese, je nach Ausführung, für Frequenzbereiche ab 200 MHz geeignet. Besonders hervorzuheben ist der neue, garantierte Frequenzbereich von 110 GHz statt wie bisher 40 GHz.  Mit einer maximalen Belastbarkeit von 2 kW/m² (CW) sowie einer maximalen Einsatztemperatur von +160 °C sind diese Absorber für viele gängige Anwendungen die optimale Lösung. Die Performance des hochwertigen Polyeurethan-Schaum-Pyramidenabsorbers wird über eine Lebensdauer von 25 Jahre garantiert. Neben dem Standard Pyramidenabsorbern kann Telemter Electronic ebenfalls speziell abgestimmte Hybridabsorber SEA-HY anbieten. Diese sind durch die Kombination mit Ferriten bereits ab 30 MHz einsetzbar. Die Hochleistungsabsorber SEA-HP sind für Leistungen bis zu 15 kW/m² ausgelegt. Durch eine gezielte Belüftung ist diese Leistung sogar noch erweiterbar.
The publisher indicated in each case is solely responsible for the press releases above, the event or job offer displayed, and the image and sound material used (see company info when clicking on image/message title or company info right column). As a rule, the publisher is also the author of the press releases and the attached image, sound and information material.
The use of information published here for personal information and editorial processing is generally free of charge. Please clarify any copyright issues with the stated publisher before further use. In the event of publication, please send a specimen copy to
service@pressebox.de
.