Press release BoxID: 1081250 (TELEMETER ELECTRONIC GmbH)
TELEMETER ELECTRONIC GmbH
Joseph-Gänsler-Straße 10
86609 Donauwörth,
de
http://www.telemeter.info/
Contact person
Edna Seiler
+49 (906) 70693-60

Entwässerung für Schaltschränke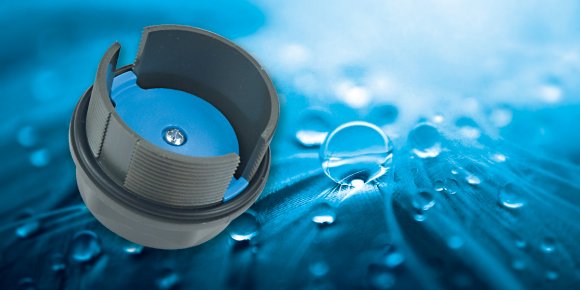 (PresseBox) (
Donauwörth

,
)
Wenn in Schaltschränken Feuchtigkeit eindringt, kann diese bei sinkenden Temperaturen kondensieren, da die Luft dann weniger Feuchtigkeit aufnehmen kann. Das entstandene Kondensat verbleibt meist ungewollt im Schaltschrankinneren. Durch den Einsatz eines Entwässerungselementes ist es nun möglich, das Kondensat sicher abzuleiten. Dadurch bleibt die gewünschte Gehäuseschutzklasse wie z.B. IP66 des Schrankes erhalten. Bei dem Entwässerungselement von Telemeter Electronic sorgt eine wasserdurchlässige Membrane auf Grund Ihrer Kapillarwirkung für eine zuverlässige Entwässerung des Schaltschrankes. Durch die spezielle Konstruktion wird darüber hinaus auch das Eindringen von Spritzwasser in das Schaltschrankinnere verhindert. Das Entwässerungselement besitzt eine Wasserdurchlässigkeit von ca. 200 ml/h bei einer Wassersäule von 5 mm und ist in einem Temperaturbereich von -45 °C bis +70 °C verwendbar. Das von Telemeter Electronic angebotene Entwässerungselement bietet ihnen eine hohe Schutzart (IP66/ IP67/ IP69K), ist UV beständig und Einfach zu montieren mit einer Abmessung von 60 auf 49,4 mm.
The publisher indicated in each case is solely responsible for the press releases above, the event or job offer displayed, and the image and sound material used (see company info when clicking on image/message title or company info right column). As a rule, the publisher is also the author of the press releases and the attached image, sound and information material.
The use of information published here for personal information and editorial processing is generally free of charge. Please clarify any copyright issues with the stated publisher before further use. In the event of publication, please send a specimen copy to
service@pressebox.de
.