Press release BoxID: 1077169 (TELEMETER ELECTRONIC GmbH)
TELEMETER ELECTRONIC GmbH
Joseph-Gänsler-Straße 10
86609 Donauwörth,
de
http://www.telemeter.info/
Contact person
Edna Seiler
+49 (906) 70693-60

Die ADFA 2 – Automatische DF Antenne von Narda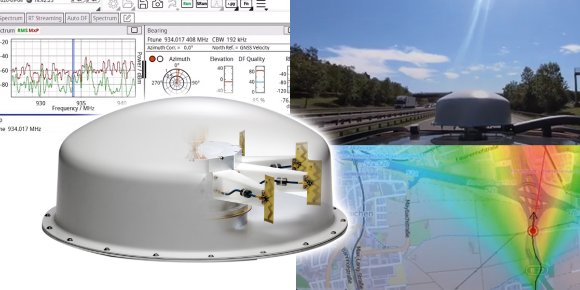 (PresseBox) (
Donauwörth

,
)
Der SignalShark, welcher von Telemeter Electronic vertrieben wird, unterstützt die neuen "Automatic Direction Finding Antennas" (ADFAs) von Narda und ermöglicht eine schnelle und zuverlässige Lokalisierung von HF-Signalen. Häufig ist es erforderlich, die Position eines Signalsenders zu lokalisieren, nachdem die Signale erkannt und analysiert wurden. Durch die hohe Peilgenauigkeit im Zusammenspiel von der ADFA 2 mit dem SignalShark können Signale von 10 MHz bis 8 GHz präzise aufgrund des eingebauten GNSS-Empfängers mittels Antenne und PPS-Ausgang gepeilt werden. Die ADFA 2 kann mit Hilfe des Magnetfußes auf jedem herkömmlichen Autodach befestigen werden und verfügt außerdem über einen eingebauten elektronischen Kompass. Ist die Antenne dann mit dem SignalShark verbunden, kann die Peilfahrt sofort beginnen und innerhalb von nur 1,2 msec eine Lokalisierung durchgeführt werden. Der SignalShark in Verbindung mit der ADFA 2 ist eine hochperformante und zudem kostengünstige Lösung für viele Anwendungen wie zum Beispiel beim Verwalten von Frequenzbändern oder der Aufrechterhaltung von PMR. Auch Mobilfunknetze können schnell und zuverlässig nach Störern durchsucht werden und sensible Bereiche werden durch Signalaufklärung geschützt. Des Weiteren überwacht die DF Antenne zum Beispiel auch die Kommunikation an Grenzen. Bei Telemeter Electronic ist es möglich einen persönlichen Beratungstermin zu vereinbaren oder eines der Demogeräte selbst zu testen.
The publisher indicated in each case is solely responsible for the press releases above, the event or job offer displayed, and the image and sound material used (see company info when clicking on image/message title or company info right column). As a rule, the publisher is also the author of the press releases and the attached image, sound and information material.
The use of information published here for personal information and editorial processing is generally free of charge. Please clarify any copyright issues with the stated publisher before further use. In the event of publication, please send a specimen copy to
service@pressebox.de
.