Lithium Report 2017 - Update 2
All you want to know about Lithium - the unstoppable future trend for energy storage

Herisau

, (PresseBox) -
The latest update 2 of the Swiss Resource Capital AG Lithium Report 2017 is now available for free download at: https://www.resource-capital.ch/...

In this report we present to you with pleasure the second update of our Lithium special report. Swiss Resource Capital AG has made it its business to topically and comprehensively inform precious metals and commodity investors, interested parties and the individual wants to become an investor in various commodities and mining companies. On our website www.resource-capital.ch you will find 17 companies and information and articles about the topic commodities. Our series of special reports started with lithium because we consider this metal to be one of the great future metals in the energy sector and in spite the already happened boom, see big chances and potentials in the long term. The battery development is only at the beginning of a long road and the electric automobile has to capture its place among consumers and in the automobile history. Lithium is the main component of all available large-scale production batteries and accumulators and therefore the crucial link in the electro mobility dream. The necessary charging infrastructure is pushed along and expanded in Germany which might accelerate the future trend. Lithium is the future of energy storage for mass energy and e-mobililty.

Check it out at: https://www.resource-capital.ch/...
Website Promotion
Swiss Resource Capital AG
NEW WAYS OF COMMUNICATION AND FINANCING FOR RESOURCE COMPANIES IS OUR MISSION! TRANSPARENCY, QUALITY AND EDUCATION OUR BOOSTER!The world finance system is facing massive uncertainty and risk making it imperative that one has wide-ranging knowledge about alternative investment opportunities. Ensure your financial future by taking control. Diversification is the means to survive the current and future market difficulties with a specific focus on value investing such as quality stocks, precious metals and resources in general.

Swiss Resource Capital AG is your partner entering the mining industry. We also work very closely with successful investment funds and asset managers. SRC has a worldwide professional network of experts and unique access to financings, allowing investors to be part of a company at early stages. Ongoing analysis, monitoring and contact with the management and site visits of selected projects keeps us abreast of promising investment opportunities in the resource sector. Our news distribution system keeps you all the time informed and up to date about the latest developments.

We assist you and deliver clear and concise information pertaining to the precious metals and the resource sector as well as selected mining companies. Through our new developed multimedia channels like the exclusive Resource-TV you have access anytime and anywhere in the world to comprehensive data and information as well as access via our log in function to the free research area of our website.

Via exclusive events and one-on-one meetings we offer interested investors in many countries the opportunity to get direct information from and personal access to the management of various mining companies. We make sure that you know what we know!

Press releases you might also be interested in
Weitere Informationen zum Thema "Fahrzeugbau / Automotive":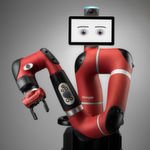 Elektronikindustrie setzt auf kollaborative Roboter
Im­mer mehr Un­ter­neh­men aus der Elek­tro­nik­in­du­s­trie set­zen auf kol­la­bo­ra­ti­ve Ro­bo­ter, das be­rich­tet Ro­bo­tik­her­s­tel­ler Re­t­hink Ro­botics. Die Ro­bo­ter über­neh­men re­pe­ti­ti­ve Auf­ga­ben, da­mit sich Mit­ar­bei­ter an­spruchs­vol­le­ren Ar­bei­ten zu­wen­den kön­nen.
Weiterlesen