Press release BoxID: 157716 (Stiebel Eltron GmbH & Co. KG)
Stiebel Eltron GmbH & Co. KG
Dr.-Stiebel-Straße 33
37603 Holzminden,
de
http://www.stiebel-eltron.de
Contact person
Henning Schulz
+49 (5531) 702-95685

"That s three appliances in one!"
A New Generation of Instantaneous Water Heaters from STIEBEL ELTRON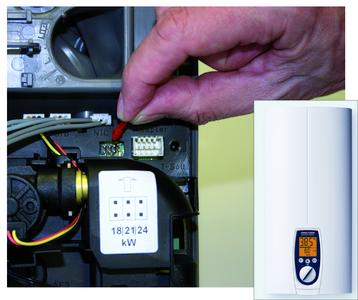 (PresseBox) (
Holzminden

,
)
STIEBEL ELTRON, the market leader when it comes to decentralised hot water supply, is now introducing the new generation of its instantaneous water heaters. Apart from the all new DHB thermotronic, which is considered a worthy successor to the hydraulic DHB, the classic among instantaneous water heaters, further new trends are to be presented. Tradesmen and wholesalers will benefit here from one smart further development in particular: in the case of the top-of-the-line appliance DHE SL, the DEL SL and the DHB-E SL one appliance covers three rated capacities of 18, 21 and 24 kilowatts respectively. 95% of all installation instances can now be resolved with just one appliance from the appropriate series. During installation the tradesman undertakes the adjustment for the rated capacity in the instantaneous water heater, that s done in a matter of seconds. The advantages for wholesalers and the trade are obvious: whereas before three different models had to be kept at the ready, now one is enough. That saves warehouse space and not least, it frequently saves time, because the model that was really suitable was not on the service vehicle at that particular time and first needed to be obtained.
Für die oben stehenden Pressemitteilungen, das angezeigte Event bzw. das Stellenangebot sowie für das angezeigte Bild- und Tonmaterial ist allein der jeweils angegebene Herausgeber (siehe Firmeninfo bei Klick auf Bild/Meldungstitel oder Firmeninfo rechte Spalte) verantwortlich. Dieser ist in der Regel auch Urheber der Pressetexte sowie der angehängten Bild-, Ton- und Informationsmaterialien.
Die Nutzung von hier veröffentlichten Informationen zur Eigeninformation und redaktionellen Weiterverarbeitung ist in der Regel kostenfrei. Bitte klären Sie vor einer Weiterverwendung urheberrechtliche Fragen mit dem angegebenen Herausgeber. Bei Veröffentlichung senden Sie bitte ein Belegexemplar an
service@pressebox.de
.