"Cure of cancer" - a missunderstandood term

Bayreuth

, (PresseBox) -
Almost every day, we read headlines like: "She was healed from breast cancer". Even Barack Obama launches the goal for America to find a 'cure' for cancer. So I asked myself, patients as well as doctors I know (and I know a lot) what the meaning of "healing" or "cure" of cancer really means.

Each and every patient told me that healing would mean to not suffering from cancer anymore, to be healthy, to stay healthy. To have no fear for cancer returning. To be able to return to normal live.

Now, turning from patients point of view to the definition doctors told me about "healing" or "cure" of cancer. Asking Medical Doctors, they told me they don't talk about "healing" or "cure", but about "complete remission".
Why do they do that? – Cure means that there are no traces of cancer after treatment and the cancer will never come back. You will hardly find any medical publications about the cure of cancer. You will much more hardly find any medical doctor telling a patient to be really cured from cancer. – Remission means that the signs and symptoms of cancer are reduced. Remission can be partial or complete. In a complete remission, all signs and symptoms of cancer have disappeared.
Doctors will sometimes refer to 5-year cure rate or a 10- or more year cure rate. What they really mean by this is a 5- or more year remission rate. Still, some cancer cells can remain in the blood for many years, even after treatment. And cancer can come back some day. Studies show that, if cells remain, cancer can come back even after 30or more years. So can we ever really talk about a cancer cure? In general, the answer is no.

This is why it is so important to monitor the remaining cells in the blood.
To have a closer look if numbers change. To have the possibility to immediately act if there is a signs of cancer's return.

With maintrac, there is a chance of monitoring in a simple and easy way. The test only needs 15 ml of patients blood to be sent to the lab in Germany which provides the actual cell numbers. With two or more tests, the trend shows decreasing, stable or (in worst case) increasing cell numbers.

Many doctors use maintrac in routine already, all over the world. Being not a big pharmaceutical company, not providing any drugs, maintrac liquid biopsy is just an independent decision aid for those who have to decide on cancer therapy.
SIMFO Spezielle Immunologie Forschung + Entwicklung GmbH
Die in Bayreuth ansässige SIMFO Spezielle Immunologie Forschung + Entwicklung GmbH ist eine medizinisch-biologisch ausgerichtete Forschungseinrichtung mit hoher Kompetenz für personalisierte Diagnostik und Therapie auf naturwissenschaftlicher Basis. Besondere Schwerpunkte bilden die Entwicklung innovativer Analyse-Verfahren zur Auswertung der Patientenspezifischen individuellen Thromboserisikobewertung sowie zur Bewertung zytostatischer Medikamente in der Tumortherapie und der onkologischen Erfolgskontrolle. SIMFO verantwortet zudem federführend den internationalen Vertrieb der beiden Verfahren ThromboTRAC® und maintrac®. Ein weiteres Anliegen der Gesellschaft besteht in der Verbreitung und Verbesserung fundierter gesundheitlicher Informationen für die breite Öffentlichkeit.

Internet: www.simfo.de


Über die Laborpraxis Dr. med. Ulrich Pachmann im Transfusionsmedizinischen Zentrum Bayreuth (TZB)

Unter der Leitung von Dr. med. Ulrich Pachmann entwickelte sich die 1996 gegründete Laborpraxis zu einem bedeutenden transfusionsmedizinischen Forschungszentrum. Als medizinischer Dienstleister arbeitet sie im Auftrag von Patienten sowie Ärzten und Kliniken aller Fachrichtungen. Seine Befunde ermöglichen es, Krankheiten wie Thrombosen und Krebs früher und präziser zu erkennen sowie geeignete Therapiemaßnahmen zu ergreifen.

Seit mehreren Jahren entwickelt sich das Interesse an den Dienstleistungen der Laborpraxis Dr. Pachmann deutlich über Europas Grenzen hinaus. So greifen Kliniken, Ärzte und Labore aus Deutschland, Österreich, der Schweiz, Norwegen, Holland, Italien, den USA und Kanada regelmäßig auf die Expertise der Laborpraxis zurück. Großes Interesse verzeichnet es außerdem aus Vietnam, Russland und den arabischen Ländern.

Internet: www.laborpachmann.de
Press releases you might also be interested in
Weitere Informationen zum Thema "Medizintechnik":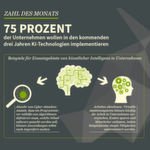 75 Prozent der Unternehmen wollen KI-Technologien implementieren
Künst­li­che In­tel­li­genz (KI) zählt zu den Top-The­men bei Un­ter­neh­men. Laut des "Top IT-Trends 2018"-Re­ports von Di­men­si­on Da­ta ge­hen rund drei Vier­tel der Füh­rungs­kräf­te da­von aus, dass ent­sp­re­chen­de KI-Tech­no­lo­gi­en in den kom­men­den drei Jah­ren in ih­rem Un­ter­neh­men ein­ge­führt wer­den.
Weiterlesen