Cloud, Hybrid and Reasoning for the Automotive HMI of the Future | SemVox at ConCarExpo 2016
The voice control and dialog system specialist SemVox presents its AI-based ODP S3 dialog development platform and cloud-based NLU solutions for the automotive sector on the ConCarExpo 2016 in Düsseldorf, Germany, on June 29th and 30th, 2016
Saarbrücken

, (PresseBox) -
Modern automotive HMI-solutions not only have to be able to perform simple control functions. In order to fulfill the demands that are put on the scope of functionalities as well as on the ease of use, sophisticated systems employ technologies from the field of Artificial Intelligence, making them true virtual personal assistants. An efficient AI learns from the context and user behavior to adapt the system reaction accordingly. The revolution in the car is the dialogical pro-active assistance that found its way from the smartphone into almost any space of our daily lives. The networked car is on its way to become a virtual personal assistant on four wheels, and new, cross-device usage and application concepts are discovering a new automotive living space.

With ODP S3, SemVox offers a very powerful software platform including an SDK that allows the developer to fulfill all demands put on a multimodal automotive HMI for the future – and more.

Unlike when using applications like Apple Siri or Google Voice as closed dialog services, all system components are under full control of the dialog developer when using ODP S3, creating predictability and future security, while at the same time increasing efficiency. Another immanent advantage of ODP S3 is its hybrid capability: The functionality of the HMI and its apps always stays intact – no matter if there is an Internet connection available or not, the user will not notice the seamless switching between the embedded and cloud-based operation modes.

Furthermore, the modular design of ODP S3 allows the designer to cover and control all possible interaction phenomena by means of task distribution to dedicated modules. ODP S3 also has interfaces that make it possible to communicate between several devices and channels (Onboard Data & Services) while ensuring the enrichment of available contexts in a dynamic and flexible manner (Online Data & Services). Here, information for example from the GPS or telephone devices are integrated into the system and become available for retrieval in semantic form. The access to different external services delivers additional information necessary to fulfill a task – for example weather information requests or table reservations at a restaurant.

With ODP S3 and the ODP Workbench, SemVox shows how multimodal proactive and intelligent assistant functionalities, the most important topic for automotive HMI today, can be developed and integrated in an unsurpassed easy, fast and especially powerful way.

Visit us at ConcarExpo in Düsseldorf on June 29th and 30th, 2016! You will find our stand #40 in the Stadthalle of the Congress Center Düsseldorf, Germany. We are looking forward to your visit!

More about ODP S3 on our website and http://tiny.cc/odps3.
Website Promotion
SemVox GmbH
SemVox offers innovative solutions and technologies for voice control, mobile applications and pro-active assistance in dialog systems, based on the latest AI technology.

SemVox was founded in 2008 and has since been dedicated to making information come alive in an intuitive way, creating efficient, simple and intelligent control concept. Whether speech input, gesture or touchscreen control, or even a combination of several input modes – SemVox technology gives users the freedom to choose the optimal input mode in any situation.

Based on ODP S3 (Ontology-based Dialog Platform), SemVox develops interactive, intermodal and intelligent solutions for the automotive sector, smart homes, home entertainment, industry 4.0, medical technology, and mobile solutions. ODP S3 enables integrators to develop their own intelligent next-generation speech dialog systems and integrate them into their existing infrastructures.

SemVox solutions and technologies can be integrated easily on end devices (embedded), run in a cloud or as a hybrid system, making them deployable on all platforms. With more than 100 years of combined experience, SemVox also provides technology consulting services and supports customers in transforming ideas into innovations.

SemVox is an official Nuance Master Distributor.
Press releases you might also be interested in
Weitere Informationen zum Thema "Fahrzeugbau / Automotive":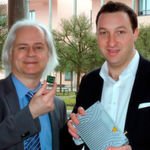 Sigfox und TH Deggendorf forschen am "1 Euro IoT"
Der IoT-Ser­vice­pro­vi­der Sig­fox wird künf­tig ge­mein­sam mit der Tech­ni­schen Hoch­schu­le Deg­gen­dorf am "1 Eu­ro Io­T" for­schen. Als Grund­la­ge di­ent da­bei das Low-Po­wer-Wi­de-Area-Netz­werk von Sig­fox.
Weiterlesen