Press release BoxID: 814379 (ODU GmbH & Co. KG)
ODU GmbH & Co. KG
Pregelstraße 11
84453 Mühldorf,
de
https://www.odu.de
Contact person
Anne Meimeth
+49 (89) 20208697-2

ODU expands cable assembly
The connector company extends its portfolio with data cable testing according to data protocol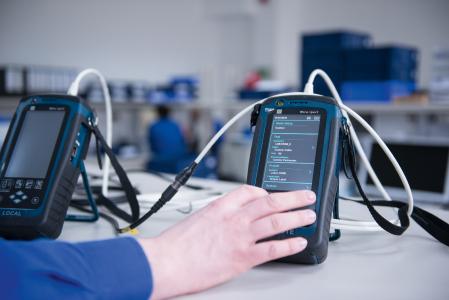 (PresseBox) (
Mühldorf

,
)
Fast, faultless data transmission is a must in every industry and absolutely essential to Industry 4.0. ODU continues to expand its expertise and will now be offering data testing with a cable and network tester for cable assemblies. The specialist in electrical connector technology uses a state-of-the-art device to test the respective parameters of cable assemblies, thereby guaranteeing faultless connections in the context of cable assembly. The globally active company uses this technology to test its ODU MINI-SNAP, ODU AMC, ODU AMC High-Density and ODU-MAC product families according to current high-speed standards such as HDMI 1.4 and 2.0, Ethernet CAT 5e/6/7 as well as USB 2.0 and 3.0. "As always, the testing is carried out in close collaboration with our development department," explains Jürgen Reimann, Head of ODU Cable Assembly. "The results are continuously fed into the development of our product lines and custom solutions." So customers can focus on the essential: Their systems and adhering to their specific parameters. The integration of assembled cables into systems is easy to do.
Für die oben stehenden Pressemitteilungen, das angezeigte Event bzw. das Stellenangebot sowie für das angezeigte Bild- und Tonmaterial ist allein der jeweils angegebene Herausgeber (siehe Firmeninfo bei Klick auf Bild/Meldungstitel oder Firmeninfo rechte Spalte) verantwortlich. Dieser ist in der Regel auch Urheber der Pressetexte sowie der angehängten Bild-, Ton- und Informationsmaterialien.
Die Nutzung von hier veröffentlichten Informationen zur Eigeninformation und redaktionellen Weiterverarbeitung ist in der Regel kostenfrei. Bitte klären Sie vor einer Weiterverwendung urheberrechtliche Fragen mit dem angegebenen Herausgeber. Bei Veröffentlichung senden Sie bitte ein Belegexemplar an
service@pressebox.de
.