Continuous growth in die European Hemp Industry – especially Hemp food and pharmaceuticals face strong demand
The industrial association "European Industrial Hemp Association (EIHA)" presents the newest data on hemp cultivation, processing and applications for fibres, shivs, seeds and flowers / From the year 2011 to 2015 the cultivation area in the European Union

Hürth

, (PresseBox) -
Hemp is a multi-purpose crop, delivering fibres, shivs, seeds and pharmaceuticals. Currently the fibre is used for light weight papers, insulation material and biocomposites. The shivs, the woody inner core of the stem, are used for animal bedding and construction. Hemp seeds, small nuts with a high nutritional value, can be consumed raw or pressed into hemp seed oil, which has an excellent and unique fatty acid profile. Both seeds and oil are used for human food and animal feed. The non-psychotropic Cannabinoid CBD is an interesting pharmaceutical and food supplement also derived from industrial hemp.

The new report "The European Hemp Industry: Cultivation, processing and applications for fibres, shivs, seeds and flowers" shows the detailed development of the European hemp industry from the year 2010 to the year 2013. Between 1993 and 1996 the cultivation of industrial hemp was legalised in most of the EU member states, others followed later. In 2011 the cultivation area decreased to its lowest value since 1994 (ca. 8,000 ha), but increased in 2012, 2013 and 2014, to finally reach 25,000 ha in 2015. In 2016 a further increase is expected. The main cultivation areas are in France and The Netherlands and, as of this year, again in Romania. In recent years, many new European countries started or expanded their hemp cultivation, mainly for the production of hemp seeds.

Whereas fibres and shivs did not show any significant difference in volume and applications between 2010 and 2013, the production of seeds increased by 92% and the production of flowers and leaves by 3,000%. The flowers for CBD production gave hemp farmers a considerable extra profit in 2013.

The report "The European Hemp Industry: Cultivation, processing and applications for fibres, shivs, seeds and flowers" will be presented the first time at the "13th International Conference of the European Industrial Hemp Association", 1 - 2 June 2016, Wesseling near Cologne (Germany), the meeting point of the hemp industry worldwide (www.eiha-conference.org). More than 250 participants from 40 countries are expected.

The full report can be downloaded for free at www.eiha.org/document/the-european-hemp-industry-cultivation-processing-and-applications-for-fibres-shivs-seeds-and-flowers/
All graphics and a poster on the use of industrial hemp are also available for download.
Website Promotion
nova-Institut für politische und ökologische Innovation GmbH
nova-Institute is a private and independent institute, founded in 1994; nova offers research and consultancy with a focus on bio-based and CO2-based economy in the fields of feedstock, techno-economic evaluation, markets, LCA, dissemination, B2B communication and policy. Today, nova-Institute has 25 employees and an annual turnover of more than 2 million €.
Internet: www.nova-institute.eu and www.bio-based.eu

Press releases you might also be interested in
Weitere Informationen zum Thema "Forschung und Entwicklung":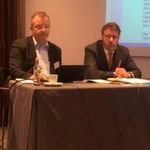 Bundesverband Künstliche Intelligenz will KI-Einsatz voranbringen
Sprach­rohr der KI-Bran­che soll der neue Bun­des­ver­band Künst­li­che In­tel­li­genz sein, der am Mit­te März von 24 Un­ter­neh­men ge­grün­det wur­de. Zu den Zie­len ge­hört För­de­rung ei­nes Men­schen-zen­trier­ten und Men­schen-di­en­li­chen Ein­sat­zes von KI-Tech­no­lo­gi­en.
Weiterlesen