NI Unveils Industry's Fastest PXI Embedded Controller With 3rd Generation Intel® Core(TM) i7 Processor

Austin, Texas

, (PresseBox) -
.
- The new NI PXIe-8135 embedded controller features industry-leading performance ideal for applications requiring intensive data analysis or processing.
- The controller is the industry's first PXI embedded controller to feature the quad-core 3rd generation Intel® Core™ i7-3610QE processor and USB 3.0 ports.

National Instruments (Nasdaq: NATI) today introduced the NI PXIe-8135, which features the quad-core 3rd generation Intel Core i7 processor and USB 3.0 connectivity, making it the industry's fastest PXI embedded controller. The NI PXIe-8135 helps engineers achieve shorter test times and increase automated test throughput, further advancing PXI instrumentation for high-performance test, measurement and control applications.

Quotes

"At NI, we are continuously investing in the PXI platform and pairing it with the latest Intel processor offerings," said Robert Canik, vice president of R&D for core PXI and distributed control at National Instruments. "The NI PXIe-8135 embedded controller is a great example of how our long-standing collaboration with Intel helps us give engineers advanced technology to address demanding test and measurement challenges."
"The 3rd generation Intel® Core™ i7 processor being used in the NI PXIe-8135 embedded controller provides superior performance and next-generation I/O technologies to help meet the intensive processing demands of the latest automated test and control applications," said Matt Langman, director of marketing for the Intelligent Systems Group at Intel. "Because of Intel's processor architecture advancements, National Instruments can continue to deliver the highest performance possible for test engineers."

Product Features

- Use of the quad-core 3rd generation Intel Core i7-3610QE processor, with up to 3.3 GHz clock frequency, in the NI PXIe-8135 delivers up to 85 percent performance increase compared to NI's previous-generation embedded controller.
- USB 3.0 connectivity offers up to 10X faster instrument communication for transferring and storing data externally.
- Four PCI Express x4 Gen 2 links interface from the embedded controller to the chassis backplane providing up to 8 GB/s of system throughput for high-bandwidth streaming applications.

Learn more with these additional resources:
- Product information: www.ni.com/pxi/whatsnew
- Video demonstration
National Instruments Germany GmbH
Since 1976, National Instruments (www.ni.com) has equipped engineers and scientists with tools that accelerate productivity, innovation and discovery. NI's graphical system design approach to engineering provides an integrated software and hardware platform that speeds the development of any system needing measurement and control. The company's long-term vision and focus on improving society through its technology supports the success of its customers, employees, suppliers and shareholders.
Press releases you might also be interested in
Weitere Informationen zum Thema "Hardware":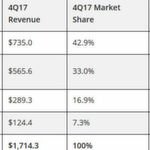 Umsatz konvergenter Systeme legt weltweit zu
Nach An­ga­ben der In­ter­na­tio­nal Da­ta Cor­po­ra­ti­on (IDC) ver­mel­de­te der "World­wi­de Quar­t­er­ly Con­ver­ged Sys­tems Tra­cker" für das vier­te Quar­tal 2017 ei­nen welt­wei­ten An­s­tieg der Um­sät­ze im Be­reich des kon­ver­gen­ten System­mark­tes um 9,1 Pro­zent. Hy­per­kon­ver­gen­te Sys­te­me out­per­for­men, an­de­re Teil­seg­men­te er­leb­ten Rück­gän­ge.
Weiterlesen